Shelby County Residents Say "No" to New Transmission Line
Posted: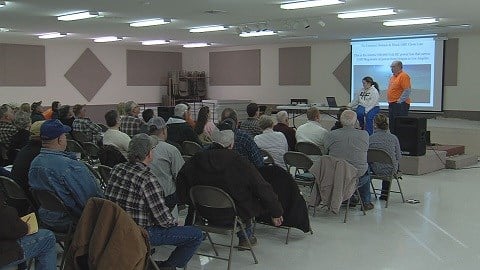 COWDEN - A public meeting has many in Shelby County concerned. Dozens gathered in Cowden Saturday morning to learn the fate of their property. Grain Belt Express, a private company, wants to build a high-voltage direct current transmission line through several counties in Illinois. One of them is Shelby County and most residents are against it.

"If this was your property would you want a 200-foot structure looking out your window or going across your land," said resident Joe Woodall.

The big issue was that the proposed line will run through private property. Although Grain Belt Express would compensate the affected property owners, they feel their property values would plunge, causing losses that far outweigh the compensation.

"It won't be worth much for raising cattle or anything like that," said Woodall.

G.B.E. is seeking "public utility status" - a status that gives private for-profit companies permanent right of way onto private citizens' land.

"Then I have to fight with towers the rest of my life," said farmer Don Hennings.

The project could benefit Illinois by adding a new source of cost-competitive renewable energy. It could even reduce wholesale electricity prices and create hundreds of construction and manufacturing jobs. But, those incentives don't seem to be good enough.

"We need to stop this, block it, and it has to be done at the Illinois Commerce Commission," said Hennings.

In order to construct and operate the transmission line in Illinois, G.B.E. must apply for approval from the Illinois Commerce Commission. They could do that as early as April. The company has not decided exactly when they'll submit the proposal, but, as soon as they do, landowners have the right to submit a petition against it. The Illinois Commerce Commission will, then, most likely hold a small hearing - to get both arguments before making a decision.