Groce: Minutes adding up for short-handed Illini, but help may be on the way
Posted: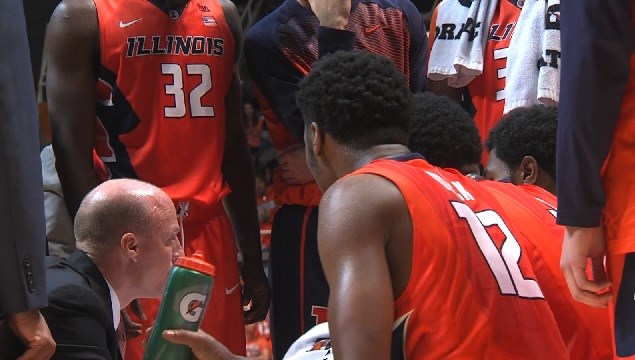 CHAMPAIGN -- "Toughness and Togetherness." It was the official motto of the 2012 Illinois men's basketball team.

Since, the phrase has remained, but Thursday Illinois head coach John Groce expressed concern that at least one of those is lacking.

"Tough it out. Figure it out," said Groce, thinking aloud about his team's inconsistent 3-5 start to Big Ten play.

The togetherness, in a literal sense, hasn't been there since day one, when Illinois began the year without senior point guard Tracy Abrams. Since, they've (temporarily) lost Rayvonte Rice to a hand injury, and Aaron Cosby to a torn retina.

The toughness has lacked because of it, said Groce. While expressing that it wasn't an excuse, he said it's clear that the minutes are adding up.

"A guy plays 38 or 39 (minutes), and he looks at me like he wants a blow, I look down to the ground and act like I didn't see him," said Groce.

Rice (28.6 minutes), and Cosby (25.3) consumed large chunks of floor time for Illinois. At that point, it's simple math: Fewer players means more minutes-per-player.

Since Cosby went out, sophomore Kendrick Nunn is averaging almost 38 minutes a game. Sophomore Malcolm Hill is averaging more than 36 - both numbers are well above their previous season averages.

"Does that factor into it?" Groce asked rhetorically. "I don't want any excuses. I've seen guys play 40 minutes before. That's why we do conditioning."

Groce did, however, offer some good news on the injury front.

Cosby, who missed the last three games with a torn retina, could return to the floor Saturday - wearing goggles or some type of headgear.

Groce said Cosby was cleared to return to contact drills in practice on Thursday.

Groce also gave a good prognosis for leading scorer Rayvonte Rice. Rice broke his non-shooting (left) hand in a practice earlier in the month. He's ahead of schedule for a return, according to Groce, and isn't ruled out for Saturday's game.

Rice was cleared for non-contact drills this week, and Groce said in the case of both him and Cosby, they'll evaluate their status in the two practice days leading up to Saturday.

The Illini tip off against Penn State at noon Saturday at State Farm Center.