94 Cases of Measles in the U.S.
Posted: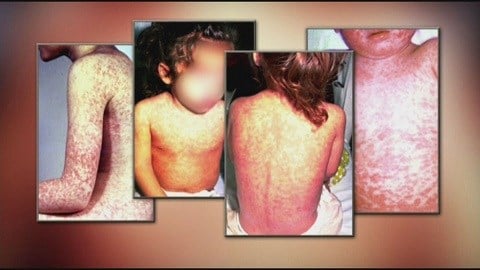 CHAMPAIGN - A measles outbreak has health officials concerned. Ninety four people across several states have become infected since January 1; a shocking number for the first 30 days of the year. One of those cases is right here in Illinois. It starts with a red rash, spreading all over the body. Then comes the fever, runny nose, and sore throat. It's called measles. Dozens have been infected this year alone. The C.D.C is tracing most of the cases to an outbreak at California's Disneyland, stemming from international visitors with the virus. Children who had not received the vaccine were most affected by the outbreak. Every state requires the measles vaccine for entry into kindergarten at a public school. But, many parents seek exemptions for personal or medical reasons.

"We do have communities with small pockets of individuals that are not vaccinated," said Rashella Thompson-Brown, the disease investigator for the Champaign-Urbana Public Health District. "And I think that is what's leading to the problem of why we're seeing some clusters of measles."

Some think the the vaccine causes autism.

"I have not seen any evidence that proves that," said Thompson-Brown.

Measles is the most contagious virus there is. It's airborne; spread through coughing and sneezing. Doctors say 90% of people who come into contact with measles will get sick if they have not been vaccinated. And even if they are, they could still get a mild form of the disease.

"You are very well protected, but if you come in contact with someone, there is a chance that you might get the disease," said Champaign-Urbana health researcher, Dr. Awais Vaid. "It may be a minor form of the disease, but there is a chance that you might get infected."

Most people born prior to 1957 have had measles and are immune. Most children receive a vaccine when they are 12-15 months old and again between ages 4-6.