Car Accident Shuts Down I-57 for Hours
Posted: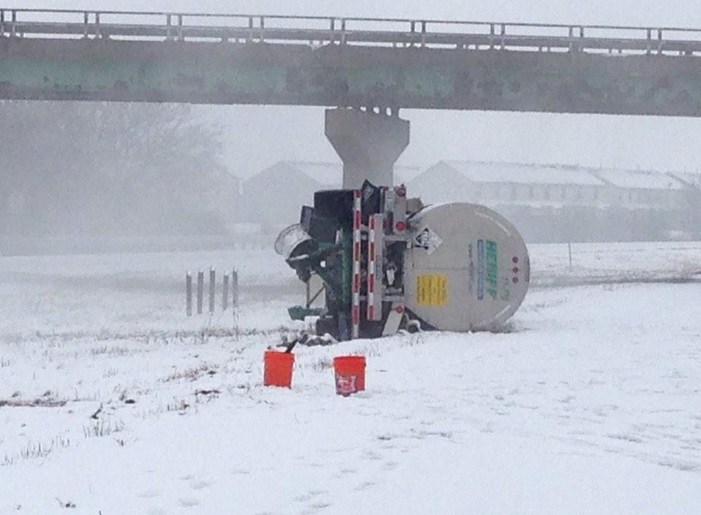 CHAMPAIGN - A semi-truck carrying 44,000 pounds of a hazardous chemicals overturned in Champaign, stalling Interstate 57 for hours. Nearly 60 residents were forced from their homes and several drivers were forced off the highway. No one was hurt in the crash but rescue efforts weren't easy.
"He was changing lanes, from the right lane to the left lane," said state trooper, Tracy Lillard.
Derrick Williams, a 33-year-old from Louisiana, was driving a truck-tractor pulling a tanker-trailer on I-57 when he lost control.
"The tanker lost control, said Lillard. "Flipped on its' side. Slid into the center median. The tractor lost control and slid into the right, northbound ditch."
The accident forced drivers to exit the highway, and residents who lived near Interstate 72 had to evacuate
"The main hazard is flammability," said Champaign firefighter John Barker.
The tanker was carrying a chemical found in most shampoo.
"It's getting outside of the container, a small bit, and it's vaporizing, so it's creating a little bit of a vapor cloud right around the tank," said Barker.
Thirty residences aligning the interstate had to be evacuated until the leak was closed and the chemical was cleaned up. Williams walked away with a ticket.
"He will be getting a ticket for too fast for conditions," said Lillard. "So, you know, if you go off, even if you're at a slow speed and lose control of your vehicle and go into the ditch, that's too fast."
By 9PM on Sunday night, the contents of tanker were offloaded into a new tanker and any danger from the vapor cloud had been controlled. The evacuees were clear to return to their homes. I-57 from Olympian drive to I-72 will remain closed for an indefinite period of time.