Illini Close Strong on National Signing Day
Posted: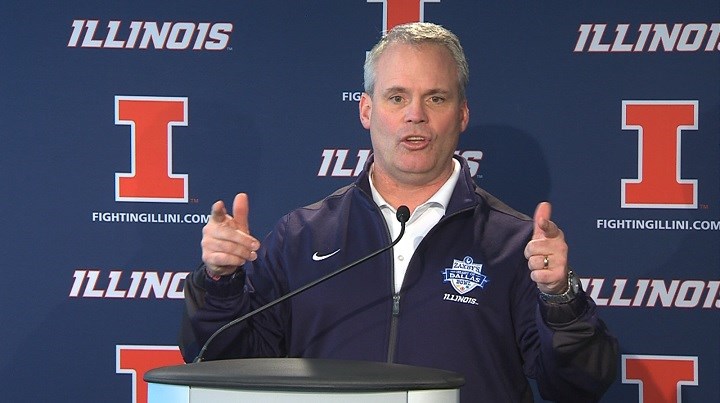 CHAMPAIGN, Ill. (AP) -- Illinois on Wednesday added the highest-rated signing class since Tim Beckman became coach before the 2012 season.
The Illini got a boost this week when highly regarded running back Ke'Shawn Vaughn of Nashville, Tennessee, and Chicago defensive lineman Jamal Milan chose Illinois.
Rivals.com
ranks Illinois' class 46th in the country and sixth in the 14-team Big Ten.
Beckman said the team's December trip to the Heart of Dallas Bowl helped strengthen the class. Illinois (6-7) hadn't been to a bowl game since the 2011 season.
Below is the complete list of the 25-man recruiting class. For more detailed information, and recruiting videos, go to
fightingillini.com
.
Sean Adesanya LEO 6-3 230 Rahway, N.J.
Desmond Cain WR 5-11 180 Delray Beach, Fla.
Reggie Corbin RB 5-10 185 Upper Marlboro, Md.
Trenard Davis DB 5-11 190 Boynton Beach, Fla.
Julian Jones LB 6-2 210 Atlanta, Ga.
Zeke Martin OL 6-5 275 Medina, Ohio
Sam Mays WR 6-3 200 Missouri City, Texas
Gabe Megginson OL 6-5 300 Jacksonville, Ill.
Jamal Milan DL 6-2 310 Chicago, Ill.
Patrick Nelson DB 6-0 205 Chicago, Ill.
Caleb Reams TE 6-3 250 Gurnee, Ill.
Adam Solomon OL 6-5 300 Indianapolis, Ind.
Frank Sumpter DB 5-10 175 Cleveland, Oh.
Ke'Shawn Vaughn RB 5-10 200 Antioch, Tenn.
Cameron Watkins DB 6-0 180 Madison, Tenn.
Justice Williams LB 6-3 200 Frisco, Texas
Early Enrollees
Connor Brennan OL 6-5 285 Sonoma, Calif.
Dre Brown RB 5-11 200 DeKalb, Ill.
Andrew Davis TE 6-6 225 Marion, Iowa
Henry Enyenihi RB 5-11 210 Lawrenceville, Ga.
Jordan Fagan OL 6-6 285 Chula Vista, Calif.
Jimmy Fitzgerald QB 6-3 220 Champaign
Jeff George, Jr. QB 6-3 190 Indianapolis
Zach Heath OL 6-4 290 Penryn Calif.
Ainslie Johnson TE 6-2 225 Anaheim, Calif.