ISP responds to several crashes and slide-offs
Posted: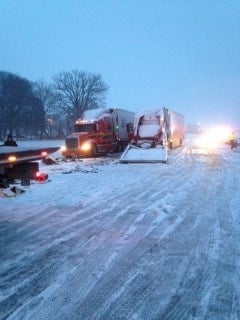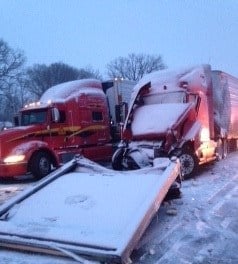 PESOTUM -

Illinois State Police continue to respond to several crashes and slide-offs in the Champaign and Vermilion County area.

The crash on I-74 westbound at milepost 192 includes 6 truck tractor semi-trailers, a Champaign County Sheriff's Office squad car, and two additional cars.

One driver suffered minor injuries.

The deputy was outside of the squad car when the squad was hit.

Traffic in that area is expected to be re-routed until about 7:30 PM.

The ISP is advising everyone, as a result,

to monitor road conditions before traveling and remember to keep emergency items inside their vehicles.



Speed is a contributing factor for accidents when conditions are wet and slick. Drivers should reduce speeds and allow for extra travel time.



"During these harsh winter weather conditions, we encourage all motorists to be especially careful behind the wheel and to avoid any unnecessary travels," said ISP Lieutenant Colonel Tad Williams.

"The safety of all motorists and first responders is our number one priority and with the motoring public's assistance, we can help ensure everyone makes it homes safely," added Williams.

Illinois State Police also want to remind motorists to yield to emergency and snow removal equipment.

It is the law (Scott's Law) to reduce your speed, change lanes if possible, and proceed with due caution..

.Slow Down and Move Over!



Stranded motorists are encouraged to remain inside their vehicles and wait for first responders to arrive.

Motorists involved in accidents that do not require emergency care may file an accident report within 10 days at the nearest police station.



Motorists can obtain up-to-date road condition information by contacting the Illinois Department of Transportation at 1-800-452-IDOT (4368) or by visiting

www.gettingaroundillinois.com.