Pieces in Place for CWS Run, as Illini Prep for Season Opener
Posted: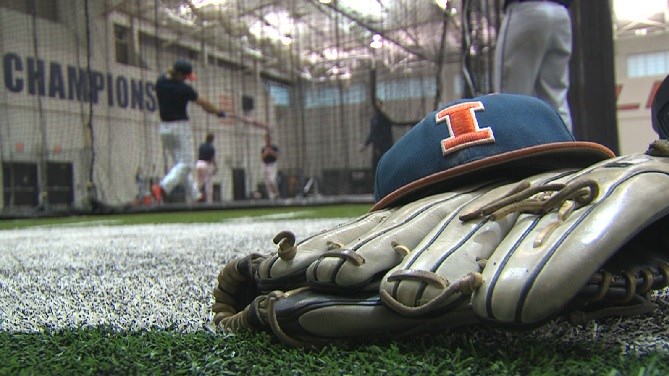 CHAMPAIGN - Four days before their season opener, the Illinois baseball team understands the opportunity that lies in front of them.

"I'm just ready to play," said senior outfielder Will Krug, who said this is as "sharp" as he's seen the Illini.

It's what you'd expect from a squad that's about as veteran as it could possibly be. That's why Baseball America predicts a regional berth in the College World Series for Illinois.

The Illini were 17-7 in Big Ten play a season ago, and they return the bulk of a pitching staff that finished the year ranked 4th in the Big Ten in ERA. They'll be anchored by two legitimate aces -- junior Kevin Duchene (4-1, 1.80 ERA) and junior Tyler Jay (4-1, 1.94 ERA, 10 saves).

It was pitching that propelled a 9-2 stretch late in the 2014 season, but it's the offense that's seeing the most return. Illinois brings back all nine starting positions players (or those who made the most starts at each position). All made at least 41 starts last season, and four of the returners hit more than .300.

Krug, who hit .307 with 10 doubles and 24 RBI, said his hope is that the offense won't have to rely on great pitching as much in 2015.

"We always talk about hitting behind runners, sac flies, stuff of that nature, and doing team things to win," said Krug. "I think that'll be a big thing we see."

Head coach Dan Hartleb, entering his 10th season as head coach - and 25th on staff, said he's not worried about the talent level of the 2015 Illini. He wants to know they'll be able to handle the expectations

"I think from 1 to 9 we have a lot of good players that can go out and score runs, so I think that we're very comfortable with where we are from a physical standpoint," said Hartleb. "I just want to see them take that mental step."

Illinois opens the season at Lamar University's Cardinal Classic. They'll play New Mexico State at 2pm CT Friday.