Better Late Than Never: Illini Primed to Put Together Another Strong Stretch Run
Posted: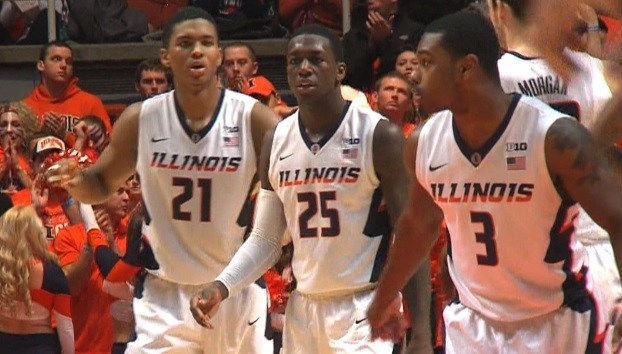 CHAMPAIGN -- It's the most wonderful time of the year for Illinois basketball fans. You could get away with simply calling it "Not January".

The Illini enter the final seven games of the regular season with a 6-5 Big Ten record (16-8 overall), and four of those games at home, where they're 11-1. That's a promising prospect, especially considering where they were just a couple weeks ago.

The month that shall not be named saw injuries and suspensions to key contributors, as well as an uninspiring 3-5 start to the conference season.

As discouraging as it may have been in year three of John Groce's tenure at Illinois, it wasn't so much different than his first two. The 2012-2013 team started 2-6 in Big Ten play before they turned their season around to reach the NCAA Tournament.

The 2013-2014 team lost eight straight conference games -- and ten of eleven -- from January to February. If you consider the start, you can better appreciate the finish that led to their NIT berth.

"It's not something that you do by snapping your fingers in one season, or on one day," said Groce of his team's continued ability to get better late. "It happens over time."

It may not change in one day, but it has always seemed to change around the same time.

Let's use February 5 as a not-so-arbitrary midway point of the conference season. Prior to that date, Illinois is 9-20 (.310) in Big Ten play under Groce. After February 5, they're 12-6 (.667).

You can't blame the second half success on schedule. That February/March record includes the defeat of No. 1 Indiana in 2013, and three wins over ranked opponents on the road.

You can't credit health. The Illini have been without Rayvonte Rice (hand) for nine games -- and they're 6-3 without him. Then, they lost Aaron Cosby to a torn retina, after which both he and Rice were suspended for a violation of team rules.

Since the suspensions, the Illini are 3-0.

"I've been on them to not have excuses," said Groce, referring a previous statement in which he claimed to ignore player requests to come out of games.

There's little you can find to explain exactly why Illinois routinely plays better late under Groce. The best they can come up with, is that they're conditioned for the long haul.

"He always talks about finishing in everything we do, and never giving up," said senior Nnanna Egwu. "and that's the mindset we all have as a team."

Sophomore Kendrick Nunn thinks this particular run also has a little to do with the opportunities given to young players in the absence of veterans.

"Guys are starting to find out their role, and be more confident in what they can do," said Nunn.

Indeed, the opportunities are piling up for younger guys like Malcolm Hill, who's averaging more than 36 minutes per games since Rice's injury. He's also averaging 17.7 points per game in that span.

It's a similar story for Nunn, who hadn't played more than 30 minutes in a game this season prior to the Rice injury. Since, he's averaging 36 minutes and 16.1 points.

Most important for Groce -- they're starting to show that they can handle the load.

"I thought the other day was maybe the best job they've done of playing hard early in the game, and at the end of the game, you could tell very little difference," Groce said, following Illinois' 59-54 win at Michigan State.

Groce remains mum on the timeline for a return for Rice and Cosby, reiterating that their suspensions are "indefinite". Until then, he's pleased that the group that's taking the floor is growing both physically and mentally.

"I do think we've taken a lot of strides with that, with this team. I think it's a big reason why we're playing well," said Groce, "but I think we can play better."

Illinois hosts Michigan Thursday. The "Orange Out" tips off at 8pm CT.