Lou Henson Part of 2015 College Basketball Hall of Fame Class
Posted: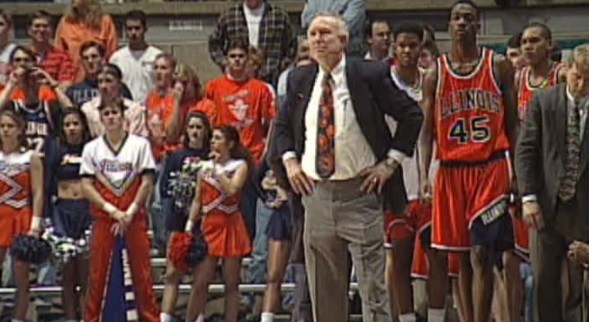 Champaign, Ill.
- Former Illinois basketball coach Lou Henson, the winningest coach in Fighting Illini history, is a member of the 2015 induction class for the National Collegiate Basketball Hall of Fame. Henson will take part in the enshrinement ceremony on Nov. 20 at the Arvest Bank Theatre at the Midland in Kansas City.
Joining Henson in the Class of 2015 are coaches Don Donoher (Dayton) and C. Felton "Zip" Gayles (Langston) and players Rolando Blackman (Kansas State), Quinn Buckner (Indiana), John Havlicek (Ohio State), Ed Ratleff (Long Beach State) and Charlie Scott (North Carolina).
Henson's legendary career spanned 41 years at three programs. He spent four seasons at Hardin-Simmons, garnering a 67-36 record. He followed with a nine-year stint at New Mexico State, leading the Aggies to the 1970 Final Four and totaling a record of 173-71. That success prepared him for his next stop at the University of Illinois.
Henson was hired at Illinois on April 5, 1975. What followed was a legendary 21-year career in charge of the Orange and Blue. He amassed a 423-224 record, highlighted by 12 NCAA Tournament appearances, a total of 15 postseason bids, and eleven 20-win seasons. Illinois basketball was one of the nation's most dominant programs during Henson's tenure, earning a top-5 seed in the NCAA Tournament seven straight years from 1984 through 1990.
Henson's Illini won the 1984 Big Ten Championship and advanced to the Elite Eight. His most successful season came with the Flyin' Illini, who won a then-school record 31 games and advanced to the 1989 NCAA Final Four. Henson ranks fifth all-time among Big Ten coaches in both total wins (423) and conference wins (214).
Following his retirement from Illinois, Henson returned to the sidelines at New Mexico State, leading the Aggies for seven more years and collecting a 116-81 record, highlighted by a 1999 Big West title and NCAA Tournament appearance.
In all, Henson won 779 games; ranking 16th on the all-time NCAA wins list, and 11th all-time among coaches with at least 10 years spent in Division I. He is one of only four coaches in NCAA history to record 200-plus wins at two DI schools, totaling 423 at Illinois and 289 at New Mexico State. He also stands as one of just 14 coaches to lead two different teams to the Final Four.
Statement from Lou Henson:

"I am deeply humbled to be included in this 2015 Hall of Fame Class of the National Collegiate Basketball Hall of Fame. When I began throwing a ball of rags through that handmade hoop on the side of our barn, I never could have imagined that the game of basketball would bring me to this point in my life.
"I have been truly blessed in many ways! First, I was blessed with parents who instilled good life values into their eight children. I've been blessed to have a wife who was a loyal team player, and kids who also understood what their Dad's livelihood required of them. At every level, I had great teachers, mentors and coaches.
"I was blessed to have been hired by boards and administrators who were willing to take a chance on a naïve young guy. I have been so fortunate to have been surrounded by great assistant coaches who deserve so much credit for making this award possible for me. I was blessed to have outstanding graduate assistants, trainers, managers and medical personnel wherever I've coached. I owe a huge debt of gratitude to all of those individuals, their wives and families for the many sacrifices they made toward building our program.
"Talented student-athletes form the core of any successful team. These men are truly responsible for my standing here today. I can't thank these young men enough for their hard work, dedication and loyalty to their teammates and me. Mary and I consider them all part of our extended family.
"I would be remiss if I didn't thank our loyal fans, student bodies and other support groups including bands, cheerleaders, dance teams, community booster groups, faculty members and staffs for their amazing support.
"I will accept this prestigious honor not only for myself and my family but on behalf of my players, coaches and many friends who have contributed significantly to my successes.
"Congratulations to the other members of the 2015 National Collegiate Basketball Hall of Fame!
"Finally, I'd like to extend my sincere thanks to the selection committee who saw fit to select this native son of Okay, Oklahoma to this illustrious group of college coaches."
Illinois Head Coach John Groce on Henson:

"This is a tremendous and well-earned honor for Coach Henson," Groce said. "He is a legend in the coaching profession and had a profound impact on both the University of Illinois and Fighting Illini basketball. I can't say enough about the respect and admiration I have for him and the job he did here. The longevity and sustained success he achieved is both amazing and inspiring. It is a blessing to sit in the same chair he occupied and to wear the orange jacket as a tribute to him and the countless lives he touched during his 21 years leading this program."
Illinois Director of Athletics Mike Thomas on Henson:

"I think I can speak on behalf of the entire Fighting Illini Nation when I say congratulations to Coach Lou Henson on induction into the National Collegiate Basketball Hall of Fame. Coach Henson's coaching record stands on it's own, but his incredible leadership qualities over the decades stands out among all his peers. Lou and Mary have influenced the lives of thousands of people during Coach's career, and this recognition into the Hall of Fame is certainly earned and well deserved."