Redefining Natural Beauty
Posted: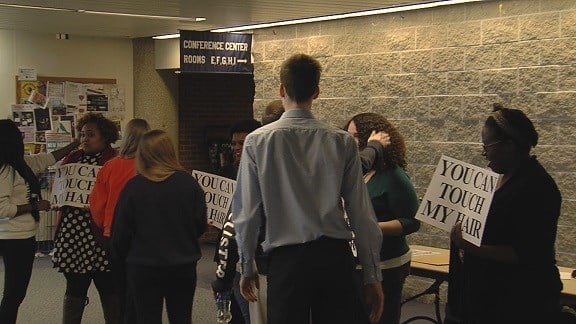 SPRINGFIELD - Some call it sticking to your roots, and some call it cute! The way you wear your hair can dictate how society perceives you. Especially for women who are often judged solely on their looks. That's why one group in Springfield is trying to redefine natural beauty.

"I decided to go natural my senior year of high school, " said University of Illinois student Jamie Anderson.

If you're confused, you're not alone. Confusion brought several to Black History Month exhibit at the University of Illinois in Springfield on Wednesday.

"We're basically giving people permission to touch our hair," said Anderson.

She's the president of The Kinky & Curly Natural Hair Empowerment Club. They signs that said "You Can Touch My Hair." It was an effort to educate students about "black" hair.

"I consider myself natural because I embrace my own natural hair texture," said Anderson.

Most black women are born with curly and extremely thick hair. However, many abandon their natural roots for a straighter and longer look.

"I use to do it to conform to society because that was looked at as beautiful, said student Asia Jackson. "So, I was like, you know, I guess I'll get this relaxer and where my hair straight."

According to Anderson, "A lot of people feel that when you're going natural, you're not as sexy or men don't find you as appealing as you were with your long hair."

That's why most black women either use strong chemicals to keep their hair straight or they blend in purchased hair commonly known as weave. Tamarra Newbern is one of them who says she made that decision in middle school because she wanted to look like the women she saw on TV.

"I want my hair straight and still too," said Newbern.

But the challenge is affording it, because many straightening procedures and packaged hair can cost a lot of money. They can even cause health problems.

"Putting the chemicals in your hair really harms your scalp. It even causes women to loose their hair,"

This group wants women to know you don't have to break the bank or your scalp to feel beautiful.

"Natural hair is beautiful," said Anderson.

The group is planning on speaking at local high schools so that young women know that their beauty is not defined by the texture of their hair.