lllini Enter Another Home Stretch "On the Bubble"
Posted: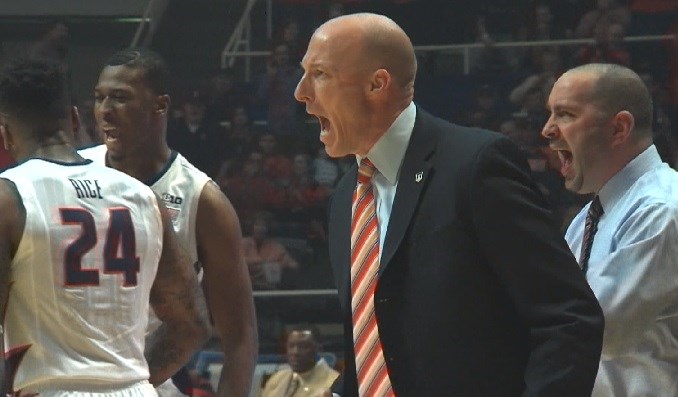 CHAMPAIGN -- There's nothing more important than the game ahead of you. It's part of the one-game-at-a-time cliche spouted by athletes everywhere.

It's especially true of college basketball - a two-games-a-week schedule that gives players time to think of little else.

However, by Sunday, it will be March, and even for the hyper-focused Illini, the "big picture" becomes important.

Consider, the Illini were likely a Tracy Abrams lay-up away from a tourney berth in 2014. That's not to put the onus on one player, but to illustrate just how little separates an NCAA Tournament team from one who's watching from home.

"It was critical," said sophomore guard Malcolm Hill. "We were literally one game away. We knew we were close, and we're close again this year."

Through 14 games in their Big Ten schedule, the Illini are 7-7, right where they were as a tourney team in 2013, and far ahead of where they were in 2014 (4-10). The latter was not an NCAA year, but the Illini won 5 of their last 6, and played themselves onto the imaginary "bubble,"

Such has been the case under John Groce, nearing the end of his third year with the Fighting Illini. As the calendar turns to March, Illinois isn't "in", but they aren't "out" either.

"It's something else," said senior center Nnanna Egwu with a smile, noting Illinois' penchant for playing just well enough to not be forgotten, "but I think the experience is going to help a lot, and knowing how we've got to approach each game."

There are only two Big Ten teams that would likely be considered "locks". Wisconsin (25-3, 13-2), and Maryland (23-5,11-4) should be in the 68-team field whether they win another game or not. The Terps' win over Wisconsin Tuesday shook up NCAA tourney seedings, but likely did little else.

That leaves six conference teams squarely on the bubble. Michigan State and Purdue lead the pack with 10-4 conference records, but the Boilermakers (18-9 overall) and Spartans (19-8) could each use another win or two to solidify their postseason hopes.

Indiana (19-9, 9-6), Ohio State (19-8, 8-6), and Iowa (17-10, 8-6) also all have real shots at an at-large bid, which puts Illinois (17-10, 7-7) 8th in a logical pecking order.

The good news, however, is that the Big Ten schedule is going to sort out most of that for us. Illinois has road games against two of those teams -- Iowa and Purdue. The Hawkeyes play Indiana on March 3. The Hoosiers have to deal with Michigan State on the final day of the regular season. Ohio State, loser of 3 of its last five, gets Purdue and travels to No. 5 Wisconsin in the final week and a half.

There's an urgency for a lot of teams, perhaps for Illinois more than any other.

"Knowing that it's almost lose-or-go-home," said senior Rayvonte Rice, who scored 15 points vs. Michigan State - his third game back from an injury and suspension, "you've got to bring your best every game and just leave it all out there."

Illinois begins a stretch of four games in eleven days to finish the regular season at Iowa Wednesday night.