Springfield Mayor race down to two
Posted: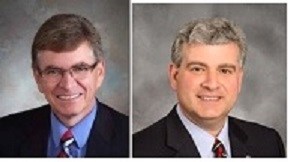 SPRINGFIELD - Change will be in store in Springfield's city government.

City Treasurer Jim Langfelder and Sangamon County Auditor Paul Palazzolo will square off in the April 7th general election for Springfield Mayor.

Incumbent Mayor Mike Houston finished third in the primary. Only the top two advance to the general election. Houston previously served two terms as mayor in the 1970s and 1980s. When he ran for his current term, he said he'd seek only one term. But he changed his mind.

"I'm delighted that our hard work has paid off," said Palazzolo, who finished second with 35 percent of the vote. "I look forward to a vigorous debate on the issues over the next six weeks."

"Springfield can do better and will do better," Langfelder told WAND News. He also thanked the voters, the candidates, and volunteers. "I look forward to the next six weeks of the campaign," :Langfelder said.

Langfelder won the most votes in the primary, finishing with 40 percent to Palazzolo's 35 percent. Houston finished third with 19 percent. Voter turnout was just over 21 percent.

Langfelder and Palazzolo will face off in a debate televised only on WAND TV on April 2. It airs at noon.