Central A&M Uses Strong 4th Quarter to Run Away With 1A State Title
Posted: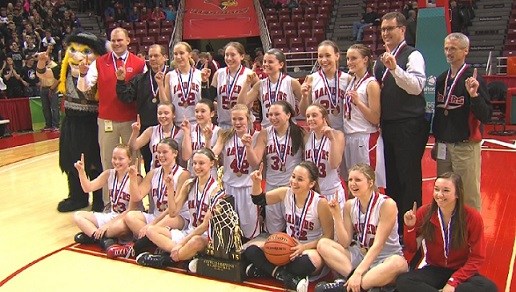 NORMAL - Mission accomplished.

The Central A&M girls basketball team used a 15-5 fourth quarter run to win the 1A state championship at Redbird Arena Saturday, 51-41 over Hardin-Calhoun.

The Raiders finished off what eluded them a year ago, in a 4th place finish at state in 2014. Earlier this week, coach Tom Dooley said his team wasn't satisfied "just getting there." They were on a mission.

"It doesn't seem real, really," said Raider junior Ryan Dooley, "Just because of all the hard work we put in this year. There's no better way I wanted to end the season."

It was a battle for the first 24 minutes, as the Warriors' imposing size gave Central A&M trouble.

Calhoun has three 6-footers in their starting five -- Kassidy Klocke (6'0"), Emma Baalman (6'1"), and Grace Baalman (6'2") combined for 33 of Calhoun's 41 points.

Entering the 4th quarter, tied at 36, Central A&M coach Tom Dooley changed their plan of attack.

"We went to a 2-3 zone because we just couldn't match up. I mean, that's the biggest team we'll ever play, I think," said Dooley. "We were fortunate they weren't hitting threes in the second half."

Calhoun was 0-5 from 3PT in the 2nd half, and 2-15 (13.3%) for the game. Once the Raiders began to contain Calhoun's bigs, they pulled away.

"We talked in the locker room before this, and we like, 'What do we need to do to win this game?' And it's toughness," said senior Taylor Jordan, who led the Raiders with 21 points, "We had guts today, and we did what we could do to win."

It's the first state title in school history for the Raiders, who finished 3rd (2008) and 4th (2014) in their previous two trips to the state final four.