Monticello Residents Pack 100,000 Meals
Posted: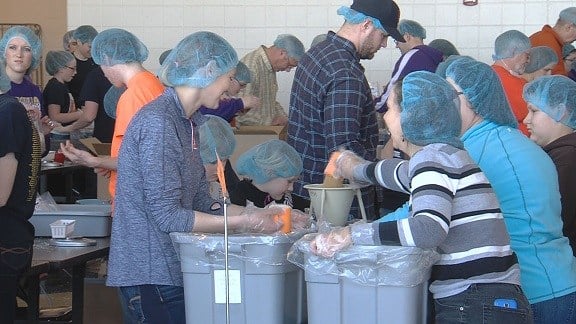 MONTICELLO - It's clear that the people of Monticello are no strangers to giving back.

"It doesn't matter who's in need," said volunteer Tip Reedy. "Whether it's a hospitalization situation or even a campaign like this, or even our Christmas food banks and Christmas toy drives. The community pools together."

More than 600 people gathered Saturday afternoon at Monticello Middle School to package meals for local food pantries.

"One of the unique things about being in Monticello is that it's really sort of a city-wide thing," said volunteer Greg Damhorst. "There are school groups here, boy scout troops, church groups."

All of these groups form what's called Monticello Fighting Hunger.

"We had such a great response that we had to turn people away because there just wasn't enough space," said Damhorst.

Volunteers packed over 100,000 meals on Saturday. Community leaders say the project is especially good for Monticello youth.

"Monticello, most people see as a fairly affluent community, but we still have families and children in need," said volunteer Stacy Cribbs. "And really, in Central Illinois, there's a large need. My husband, recently, was working in Decatur at a school and 8 of the 10 of his students didn't bring a lunch."

The message is clearly coming through.

"It's always good to help people who are in need," said volunteer Makenna Reedy.

Volunteers packed enough food to feed 17,000 families.