Macon County Covered in Snow
Posted: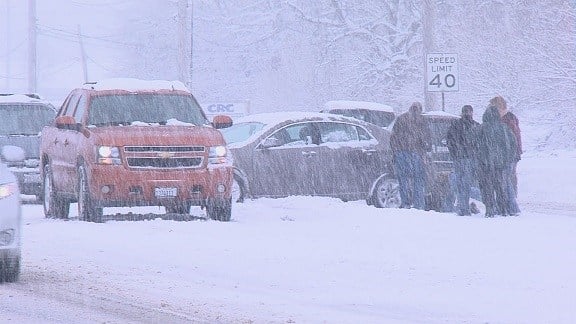 MACON COUNTY - Cars were stuck in ditches. Side streets were covered. Another round of snow slammed Macon County on Saturday night and into Sunday morning.

"Since last night around PM, we've had 8 accidents that were property damage only, we didn't have any accidents that involved injury, and we've had approximately 4 vehicles that were simply ones that slid off onto the side of the road or into a ditch," said Sgt. Jim Hermann of the sheriff's office.

He considers this a low number.

"I just checked with some of our deputies on the street, and there was hardly any traffic on the roads," he said.

The gave plows more than enough space to clear the snow.

"The City of Decatur has their trucks out. Macon County Highway Department has their trucks out, and the state department of transportation has their plows out on the interstates," said Hermann.

Macon County Higher engineer Bruce Bird says plows began working as early as Saturday night.

"Our first crew came in at 8 o'clock last night, and they worked through 8 o'clock this morning, and our second crew started at 8 o'clock and they'll work till 8 o'clock if need be," he said.

After that, they'll begin their next task.

"Once it stops actually snowing, our guys should be able to get the roads pushed back and actually treated," said Bird.

He says the roads should be safe by Sunday night . Sgt. Hermann says that doesn't mean you should be unprepared.

"Make sure you have a full tank of gas, some extra blankets in the car, hat and gloves, and maybe a shovel for if you get stuck," said Hermann.

It may take rescue workers longer than usual to respond to emergencies.