Man says 8 abusive priests worked in Central Illinois
Posted: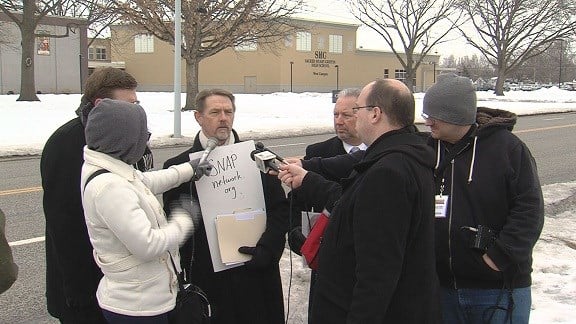 SPRINGFIELD - A group of priests ,accused of sexual abuse, may have worked under the Springfield Diocese for a period of time.

Wednesday afternoon, leaders of an abuse network gathered in the capitol city to list their names. The press conference was across the street from Springfield's Catholic Pastoral Center. Leading the conference was David Clohessy, who directs a support network for men and women abused by priests. He traveled to Springfield to name 8 priests who he believes worked for the Springfield diocese after being accused of abuse in other parts of the country.

"None of these 8 names are names that are being made public, today, for the first time," said Clohessy. "What's being made public today for the first time is that two of them definitely worked in this diocese, and the other six, some of them may have spent time here, that's what we don't know."

There is evidence that suggests Fr. Frank Martinez of Iowa did work in the Springfield diocese for a period of time, however WAND News couldn't find evidence to say the same about Fr. James Vincent Fitzgerald, and getting into the official catholic directory requires special access.

"The Official Catholic Directory itself acknowledges that Father Martinez worked in Godfrey, IL, and that Father Fitzgerald worked in Decatur, IL, both of which are in the Springfield diocese," said Clohessy.

Marlene Mulford, spokeswoman for the Springfield dioceses, says it's not true.

"Neither of the two priests either Father Martinez or Father Fitzgerald were diocesan priests in our diocese," said Mulford. "One belonged to a religious community. The other was a diocese of Davenport, so their communities are responsible."

These are the names of the other six priests, all of them ousted from their Chicago parishes in the 1990s. Clohessy says that at one point they were all listed in the Official Catholic Directory as having a 217 area code.

"The only thing we can say for certain is that six suspended and credibly accused Chicago predator priests, during one year, mysteriously had a 217 area code and a phone number that is supposedly in Litchfield, IL.

Mulford denies that they ever worked in the Springfield diocese.

"The other six priests were not our diocesan priests either and to our knowledge they were not assigned anywhere in the diocese."

None of the listed priests work for the Springfield diocese at this time, but Clohessy's fear is that they may have been abusive if and when they did.