Illinois Pro Day: LaCosse "Turned Heads" in Front of 21 NFL Scouts
Posted: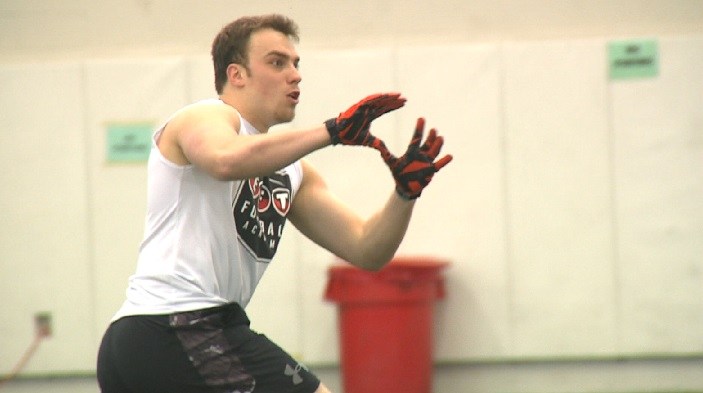 CHAMPAIGN -- It has all the trimmings of a job interview -- the paperwork, the prospective employers, and the nerves.

"The hardest part is getting started," said Austin Teitsma, Illinois' departing defensive lineman, who was one of 13 Illinois players to work out in front of 21 NFL scouts on Thursday,

If expert projections are correct, Illinois will go a second straight year without an NFL draft pick, and while this particular pro day may have lacked star power, it wasn't short on importance.

Sure, a strong workout for a first round pick may bump him up a couple spots, but for those fringe, undrafted free agent types, this workout could mean the difference between an NFL contract, and going back home to work at the family business.

That's pressure.

"On my first start (on the 40-yard dash) he blew the whistle, saying I didn't pause long enough, and that made me really nervous," said tight end Matt LaCosse, who -- despite his false start -- "turned heads" according to one scout.

Pro day brought back home some alumni -- Steve Hull, Ryan Lankford, Jonathan Brown, Terry Hawthorne, Graham Pocic, and Hugh Thornton, all of whom signed NFL contracts after college.

That's the hope for guys like RB Donovonn Young, punter Justin Duvernois, and S Earnest Thomas III, who are all candidates for training camp invitations.

Thomas came into the day, arguably one of the most likely among them. While most official numbers from pro day weren't made immediately available, it was clear he struggled through drills on Thursday, slipping on the Irwin Indoor Center turf a number of times.

"I actually tweaked my hammy a little bit in the 40. I would definitely like to get another chance to run that," said Thomas, "but it was a great experience. You can only learn from it now, and keep moving forward."

Pro day, though, doesn't hurt a prospect's chances as much as it helps. That was the case with LaCosse.

While he ran well in the agility drills, and caught passes from former teammate Reilly O'Toole, the tight end ran a 4.64 40-yard dash -- a number that would have ranked 2nd among tight ends at the NFL combine.

He also repped 20 times on the bench press, and had a broad jump of 9'8" -- both numbers among the top-6 of the 19 tight ends who participated in last month's workout.

Take those numbers how you will, but they put him in the same category as guys expected to be on NFL rosters next year.

"It definitely makes you want to work harder," said LaCosse, of the compliments he received from scouts. "It's just another motivating factor. It shows that the work you've been doing really paid off."

"I'm going to go back to work when I get back to Chicago, and hopefully get even better."

The NFL Draft runs from Thursday, April 30 to Saturday, May 2 in Chicago. Undrafted free agents begin signing with teams immediately following the draft.