2015 Illinois Product Expo
Posted: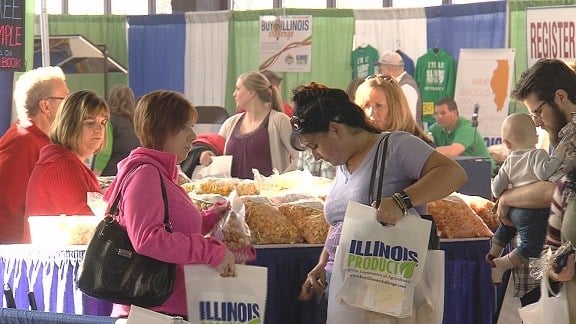 SPRINGFIELD - Good food and happy people, the two collide every year at the Illinois Products Expo.

"We've got stuff from the winery for the adults to ice cream for the kids," said expo coordinator Luke Sailer. "Pizza, salsa, fudge."

About 70 small businesses set up shop on the State Fair Grounds. Hundreds of consumers were hungry for what Illinois has to offer. All of the products being promoted were made in Illinois. A $5 admission fee gives you the freedom to sample them all.

"We're just helping the Illinois economy," said Sailer. "It's just a great way to help your neighbor, you know, help all these small businesses to grow."

Some of the vendors are here for the first time, like Freedom Halal Farm.

"We figured this would be a great way to give it to the public, see what they thought before we really hit production," said Sayer Abbed, the C.O.O of Freedom Halal Farms.

His goal is to maximize the success of his company and other local companies that help make his products.

"Right now, Illinois is struggling, obviously, so we're trying to help local farmers, local producers," said Abbed.

Many businesses use the expo to test new products before they hit market shelves.

"The compliments that we're getting, the encouragement we're getting from these people has really got our staffed pumped up," said Abbed.

Veteran companies like Butch's Pizza are used to it. It's been at the expo for 16 years.

"We see some of the people every year and the other vendors we're friends with, and it's just a great exhibition for local products," said owner Tim Carey.

It's an effort to keep Illinois' economy thriving.