St. Teresa Blows Past Bloomington-Central Catholic to Earn State Semifinal Berth
Posted: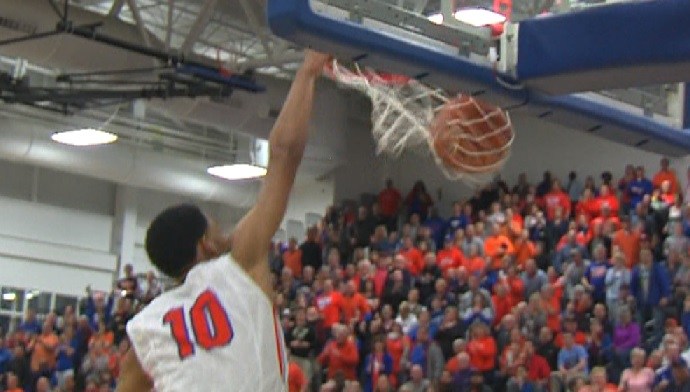 Christian Williams (10) puts the exclamation point on a Super Sectional win.
SPRINGFIELD -- The St. Teresa Bulldogs are state-bound.

Senior Christian Williams scored 26 points, as St. Teresa blew out defending state champion Bloomington Central Catholic, 56-35 at UI-Springfield Tuesday night.

"I'm very pleased with how our guys came out tonight," said Bulldog head coach Tom Noonan. "I thought the gameplan was very good. We got a lot of guys involved. Our ball movement was better tonight than it was on Friday."

It was another dominant performance for a Bulldogs team whose average margin of victory in these playoffs is 22.2 points. Still, Noonan thinks they can do better.

"I think we've got our best basketball ahead of us," he said.

That might seem like a coach's blind optimism, but the Bulldogs weren't without flaws Tuesday.

They trailed the Saints 10-6 after a quarter, and - most surprisingly - had no points from Williams. After the game, Noonan relayed what he told Williams during the first break.

"Get yourself an easy one. Don't keep battling and struggling. Let the game coming the you," said Noonan. "I think the first points we threw ahead to him for a dunk, and from then on, he was on."

He absolutely was, and as Williams goes, so go the Bulldogs.

That dunk sparked a 25-6 run in the 2nd and 3rd quarters, including an 11-0 run out of halftime. Williams said he could tell that it took the wind out of the Saints' sails.

"We kind of felt they were getting down on themselves, but as coach said, the game wasn't over, just keep playing hard," he said.

The Bulldogs will now play Rockridge High School in the state semifinals. As of Tuesday night, Noonan was telling his players to just enjoy the moment.

They'll get back to work at practice Wednesday.

"It's going to be a real fun experience," said Williams. "It's what we dreamed of. We haven't been to state since about 7th grade. We're just going to look to win."

That game tips off at 6:30pm Friday at Carver Arena in Peoria.