St. Paul's Lutheran Church is feeding starving children
Posted: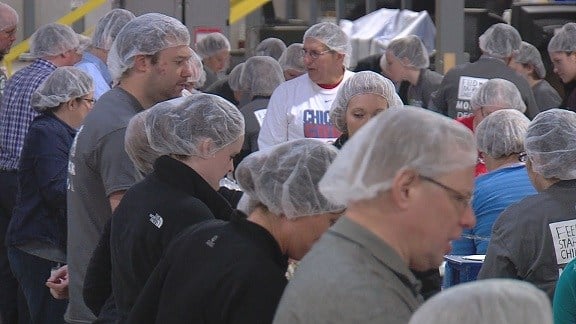 DECATUR - 1,000 people. 200,000 thousand meals. And only two days to pack them. At St. Paul's Lutheran Church, what seems impossible is possible.

"We have a blast," said volunteer Andy Moore. "This is not just simply giving back. That's a huge part of it, but it is a fun way to give back."

Members of the popular Decatur church raised $44,000 to pay for all the food. Every year, church leaders team up with the national Feed My Starving Children program that sends meals to more than 70 countries.

"It all starts with making sure kids have meals," said volunteer Andrea Gerhard. "You can't learn properly. You can't work properly. You can't live properly without having proper nutrition."

The people packing meals aren't just members of St. Paul's Lutheran Church. Many of them come from different churches and want to lend a helping hand.

"It's a great thing when we can all come to together and serve together no matter what church we go to, no matter what part of the city we live in, no matter what our daily jobs are," said Gerhard. "We can all come together and serve a greater purpose and help other people."

Many volunteers were compelled by their faith.

"As a christian, I'm looking for ways to show the love of Christ to others, and the Feed My Starving Children folks have set up a fantastic fun simple way to do that."

Decatur has many programs helping the hungry, locally, but volunteers say this is an effort to reach the world.