Johnson Goes the Distance in 6-2 Win, as Illinois Evens Series with SIU
Posted: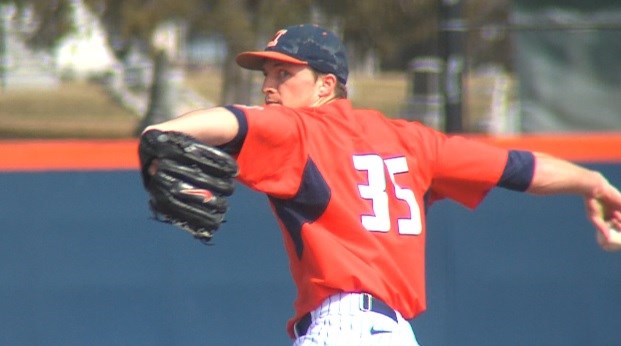 CHAMPAIGN, Ill. (via
Fightingillini.com
) - No. 19 Illinois (13-4-1) pounded out 12 hits behind starter Drasen Johnson's complete game in a 6-2 win over Southern Illinois (3-14) on Saturday at Illinois Field. The Illini jumped out of the gate with four straight hits and three runs to start the game along with tacking on three insurance runs in the eighth.
"We got off to a great start," head coach Dan Hartleb said. "With as tight as the game was, the thing that was impressive is how we found a way to come up with another three-run inning in the bottom of the eighth to blow it open. It was nice to see our guys bounce back after a tough game yesterday."
Johnson, who earned his third career complete game, needed 101 pitches to become the first Illini to go the distance this season. He scattered 10 hits and only allowed a run in the second and one in the sixth. He finished with two strikeouts and one walk.
"Drasen was outstanding," Hartleb said. "It was not an easy day by any means. He had to battle each and every inning. He got out of some big jams, and we did a very good job defensively behind him. That was a very gutty outing and something we really needed."
Shortstop Adam Walton started the hit parade with a leadoff single in the first and advanced to second with heads-up base running when the center fielder misplayed the ball. Senior Casey Fletcher knocked in Walton with a single to left center and advanced to second on Reid Roper's single to right. Sophomore Pat McInerney brought them both home when he drove a double to right for a 3-0 lead.
The Salukis made it 3-1 with an RBI single in the second and got within one at 3-2 with an infield RBI single in the sixth. Johnson stranded a runner at third in the seventh and retired the final six Salukis to close the contest.
A three-run eighth provided the insurance to make it a non-save situation and keep Johnson on the mound to finish what he started. Sophomore Ryan Nagle, who went 3-for-4, plated sophomore Matthew James with a single to center. Junior Jason Goldstein singled home senior David Kerian and Walton pushed Nagle across with an RBI groundout.
Up Next: No. 19 Illinois will meet Southern Illinois for the rubber game on Sunday at 1 p.m.