QBs Adjusting to New Roles as Spring Practice Season Begins at Illinois
Posted: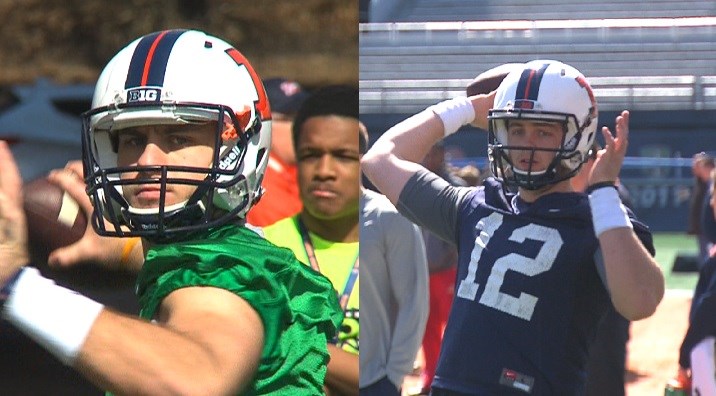 CHAMPAIGN -- Illinois opened up spring practice with an old cliche in the back of their minds: As a back-up, you're always an injury to a starter away from taking the field yourself.
That was especially true of the quarterback position at Illinois in 2014.
What started as Wes Lunt's job, became senior Reilly O'Toole's after Lunt injured his leg. When O'Toole struggled, sophomore Aaron Bailey stepped in.
Lunt returned mid-season, got injured again, returned later, and ultimately lost the starting job for the final two games of Illinois' 6-7 campaign.
O'Toole was at the first spring practice Saturday, but as a spectator.
Bailey chose to transfer from Illinois, committing to play at Northern Iowa earlier this week.
That's why there was a fair amount of local media surrounding a 19-year-old who has yet to take a college snap.
"The young man has really pushed himself to become something special," said head coach Tim Beckman, complimenting redshirt freshman Chayce Crouch.
Crouch, a 6-foot-4, 225 pound QB out of Ohio, has been thrust into the backup role -- and been asked to assume punting duties -- after much observation during his redshirt season.
"Last year, I was more in that sponge role, learning everything." Crouch said, following Saturday's practice. "The type of preparation it takes. You spend hours and hours in the film room during game weeks, and just tagging along with Reilly and Wes during that process was huge for me."
Unlike last spring, there's no real battle for the starting QB job. Lunt knows it's his team to lead, and there's a responsibility to that.
"I think just taking more accountability on and off the field," said Lunt. "Just doing everything right, be a leader, and try and set examples for other guys."
It's no secret, however, that Lunt has had trouble staying on the field. In fact, he hasn't completed a full season since he was a junior at Rochester High School -- in 2010.
He attributes his injury-prone nature to growing "way too fast", but understands he'll need to be more attentive to his body going forward.
"I'm doing everything I can nutritionally," he said. "I actually take calcium pills now. I'm doing anything and everything that could help me stay healthy."
That, of course, is not to say Lunt failed to put forth the effort to take care of himself in 2014. The fact is, however, that Lunt only took about half of the QB snaps for Illinois last season -- and attempted 51.2% of the team's total passes.
Crouch understands he needs to be ready to shoulder the load.
"Now that I've matured a little bit, I know that down the road I have a chance to play, and I'm just really trying to prepare, and prepare, and prepare weekly," Crouch said. When I'm asked to play, when I'm asked to win a game, I need to be able to do so."
----------------
Illinois' full spring practice schedule can be found
here
.