Illinois Baseball Tops SIU 4-1 in Series Finale
Posted: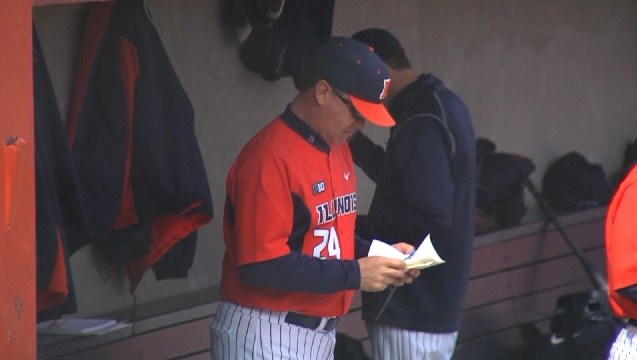 CHAMPAIGN (via
fightingillini.com
) -- No. 19 Illinois (14-4-1) hit three home runs and received impressive pitching from senior
John Kravetz
and junior
Tyler Jay
in Sunday's 4-1 series-clinching win over Southern Illinois (3-15). Sophomore
Pat McInerney
had the game-tying homer in the third, while senior
Casey Fletcher
connected on the game-winning bomb in the eighth.
"We got great pitching again," head coach
Dan Hartleb
said. "It was typical of our entire weekend where our guys did a great job on the mound. From an offensive standpoint, we drove some pitches out of the ballpark and came up with big home runs."
The Salukis scored their only run on an RBI single in the third, but weren't ahead for long, as McInerney crushed a homer to left with two outs in the bottom half.
Kravetz, who received a no decision after seven solid innings, kept SIU off the board over his final four innings. He only gave up six hits and didn't walk anyone while striking out two.
Jay took over on the mound in the eighth and delivered two shutdown stanzas, retiring all six Salukis he faced. The Lemont, Illinois, native improved to 4-0 and has yet to allow a run in 22.1 innings this season.
With one out in the bottom of the eighth, Fletcher smacked an 0-2 pitch over the wall in right to put the Illini up 2-1. It marked the fourth home run in seven career games against SIU for the Oakwood, Illinois, native. Senior
David Kerian
provided the insurance with a two-run shot to right later in the inning.
Illinois shined on the mound this weekend with a 1.33 ERA and 19 strikeouts while only allowing five runs (4 ER) and one walk. After belting three homers on Sunday, the Illini took over the Big Ten lead with 13 home runs.
"I am very pleased with they way our entire team battled after Friday night," Hartleb said. "We didn't get down when things were not going well. We just played well and found ways to win."
Up Next:
No. 19 Illinois will play host to a three-game series at Illinois Field next weekend (March 20-22) when South Florida comes to town.