Decatur City Council candidates debate
Posted: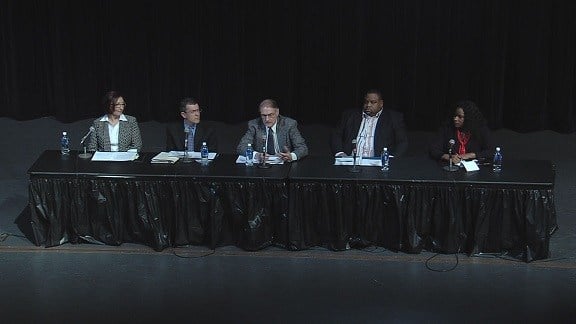 DECATUR - City Council candidates square off in Decatur.
Six people are running for three spots.
The debate took place, Thursday, at the Decatur Civic Center.
Three council members have terms that are about to expire, but only one them is seeking re-election.
Dr. Dana ray is hoping to keep her seat, while the other five contenders fight for the remaining two.
Each of them got two minutes to answer questions related to city concerns.
Among those concerns are job growth, infrastructure, zoning, and beautifying the city.
Here are some memorable quotes from the debate.
David Horn: I'd like to see greater incentives to attract small businesses to Decatur, and I'd like to see that we have strengthened relationships with our current businesses and current companies to retain and grow the businesses that are already here.
Derrick Thaxton, Sr.: Not everybody is college material. But, if we train them. If we teach them, train them, and develop them, they'll become productive citizens, and, more importantly, they'll become productive taxpayers.
Dr. Dana Ray: I want to be able to, again, with that same passion and vigor that we rented our downtown area, allow that to take place in our neighborhoods as well. I want our neighborhoods to be a shining star for our city.
Lisa Gregory: We can't take care of our inner city neighborhoods, and do what we have to do there, if we are not fiscally in a place to do that. I really think that, in order to do the things Decatur needs in order to move forward, we need to make sure that we have a fiscal checkbook that's going to allow us to do that.
Robert Lewis: I have a strong desire to be in service. My work at Sears, essentially, was providing service for people. I would consider this to be a continuation of what I did there, just on a little different level, and providing different types of services.
Missing in action was Bill Faber, who was tending to a family matter. He left a brief statement for the moderator to read. The day to vote is April, the same day you'll be voting for Mayor. The mayoral debate will take place at the Civic Center, at 6pm, next Thursday.