Illinois Freshman Isaiah Martinez Wins National Title
Posted: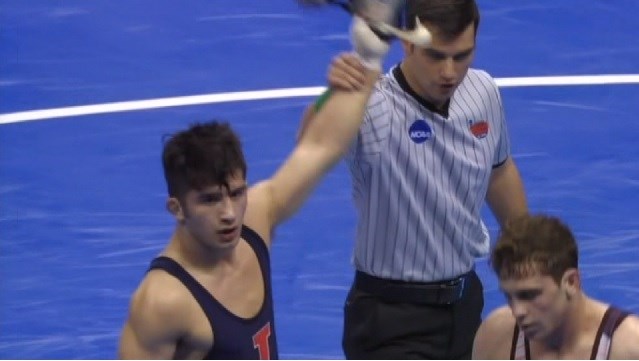 ST. LOUIS (via
FightingIllini.com
) -- Fighting Illini redshirt-freshman
Isaiah Martinez
put an exclamation point on his season Saturday night, winning the NCAA 157-pound national title. Martinez defeated Brian Realbuto (Cornell) by major decision, 10-2, to become the first freshman to be an undefeated national champion since Cael Sanderson of Iowa State accomplished the feat in 1999.
Martinez struck first in the championship bout, taking down Realbuto to grab a 2-0 lead. Realbuto escaped to cut the lead to 2-1 at the end of the first period. Martinez opted to start the second period in the down position, from which he quickly escaped to take a 3-1 lead. Another takedown for the Illini grappler gave him a 5-1 lead advantage at the end of the second period. A two-point nearfall in the third gave Martinez a 7-1 lead. Realbuto escaped to make it 7-2, but Martinez grabbed a final takedown and rode out the Cornell grappler to seal the 10-2 victory.
Martinez began his run to a national title with an 18-2 technical fall over Russell Parsons (Army). He followed up that performance by pinning Spartak Chino (Ohio) in 1:25 to advance to the quarterfinals. In the quarterfinals, Martinez took down Nick Brascetta (Virginia Tech), 10-4. He then edged James Green (Nebraska), 3-2, before squaring off with Realbuto.
Martinez finishes his stellar season with a 35-0 record, just the third time in Illinois history that a wrestler has completed an undefeated season, and the first since
Matt Lackey
in 2002-03. Of his 35 wins, 24 came by major decision or greater, including an NCAA Division I leading 11 technical falls. Dating back to last season, Martinez has won 42 matches in a row.
The Illini finished the 2015 NCAA Championships in 12th place with 51 points.