Family donates child's birthday gifts to charity
Posted: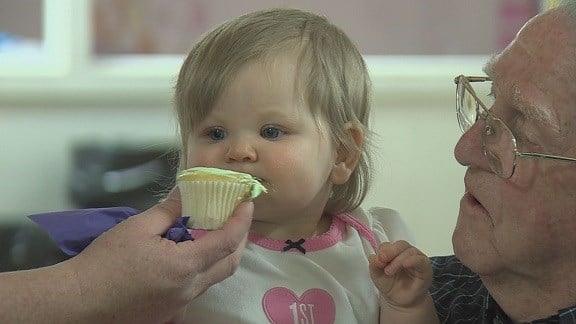 DECATUR -
Some are calling her a miracle child and she lives right here in Central Illinois.
Allison Frankovich is defying the odds at just a year old.
Taking victory over her health while inspiring dozens, w
ith no sign of her challenging birth that nearly took her life.
"She had a prolapsed cord which means her cord came out before her, and it cut off all the blood supply and oxygen to her body," said her mother, Janice.

Janice often thinks back to the day she almost lost her daughter. Immediately after being delivered at a Decatur hospital, the newborn was transferred to St. John's Hospital in Springfield where her complications could be properly assessed.
"At St. John, she had like a stroke and it caused significant brain damage to her hypothalamus," said Janice.
Doctors told Janice that because of the brain damage, Allison wouldn't be able to swallow food. They also diagnosed her with Cerebral Palsy, but those predictions never came true. Sunday afternoon, the Frankovich family celebrated Allison's first birthday, Allison has no problem swallowing and hasn't shown any symptoms of Cerebral Palsy.
"I want to thank every nurse, every doctor from the moment she was born," said Allison's father, John.
The party came with tears, laughs, and a twist. Instead of giving gifts to Allison, all of the gifts are being donated to the Ronald McDonald House in Springfield. That's where Allison's parents stayed for weeks while she was in the NICU. After their stay at the house, the Frankovich family decided that, if Allison could live to see her first birthday in good health, they would donate all of her gifts to the organization.