Illini Close Out Homestand With Win over Kent State
Posted: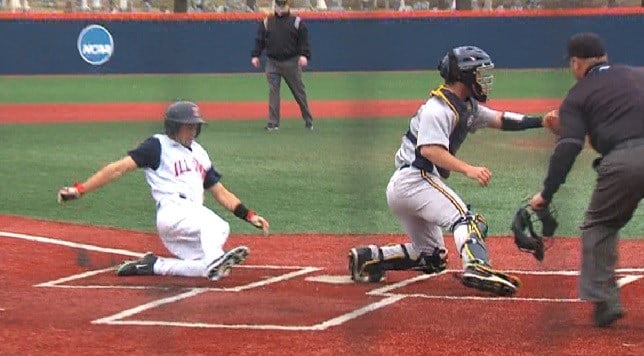 CHAMPAIGN, Ill. - No. 17 Illinois (18-5-1) rounded out its longest stretch at home this season with a 9-4 victory over Kent State (10-10). Starter Rob McDonnell earned his second win with five scoreless frames, while the offense notched 12 hits, led by three from junior Ryan Nagle and a three-run triple by sophomore Matthew James.
Sophomore Pat McInerney, who leads the team with a .403 average, went 2-for-3 with two RBI and started the scoring with an RBI double in the first. Nagle singled and stole second before crossing home as the first run.

Illinois added two runs in the third to make it 3-0. Senior Will Krug scored from second on a Kent State error following Nagle's bunt and redshirt-sophomore Adam Walton touched the plate on McInerney's fielder's choice.

Nagle led off the fifth with a ground-rule double and advanced to third on McInerney's single to left. After a pitching change and foul out, junior Jason Goldstein reached on an error by the shortstop that allowed Nagle to score for a 4-0 advantage.

McDonnell (2-1) exited after five solid innings with three hits and three strikeouts on 57 pitches. Sophomore Cody Sedlock gave up the first run on an RBI single in the sixth but escaped further damage with an inning-ending 6-4-3 double play.

The Illini broke it open with a five-run seventh for a 9-1 edge. Four consecutive walks forced a run home followed by James' bases-clearing triple off the wall in center. Sophomore Ryne Roper brought home James with an RBI groundout.

Junior J.D. Nielsen retired both batters he faced in the seventh in relief of Sedlock. Redshirt-junior Andrew Mamlic was charged with two runs in the eighth, while redshirt-junior Charlie Naso took over in the ninth. After three walks loaded the bases, Reid Roper recorded the final three outs, with the only other run scoring on a sacrifice fly.

Illinois finished 7-2 during its nine-game homestand at Illinois Field.

Up Next: Due to expected cold temperatures in East Lansing on Friday, this weekend's Big Ten series between No. 17 Illinois and Michigan State has been moved to Saturday through Monday (March 28-30) at McLane Baseball Stadium. Each game is scheduled to begin at Noon CT (1 p.m. local time).