Soldier retires after 29 years
Posted: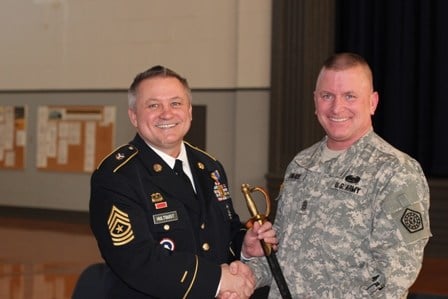 SPRINGFIELD - Sgt. Major David Hultquist of Delavan is calling it a career after 28 years of service to the Illinois Army National Guard.

Hultquist most recently served in Kuwait from 2013 to 2014 with the 108th Sustainment Brigade in Chicago. He served as the operations sergeant major coordinating training and operations for nearly 3,000 soldiers and 1,700 contractors.

Colleagues describe Hultquist as a natural leader.

"He's a model non-commissioned officer," said Captain Tim Johnson of Waunakee, Wisconsin.

"He's very meticulous and very detail-oriented. He likes things just the way he wants them to be to make them perfect," Johnson said.

Hultquist said his secret to life is simple.

"I pride myself on traditions and bringing together teams," Hultquist said. "Whatever I'm a part of, I want it to be the best of whatever it is."

Hultquist's military duties often separated him from his family. But he says his proudest moments were the births of his two children, Sydney, 16, and Pete, 14.

Hultquist's wife, Sharon, said her husband spends almost all of his free time with his family.

"No matter what, he puts us first," she said.

In retirement, Hultquist plans to focus on his family, bettering himself, and keeping busy. He attends Western Illinois University, where he intends to earn his Bachelor of Arts in history.

Hultquist reflects on his retirement with mixed emotions.

"I'm going to miss the mentorship of Soldiers," he said.