Congressman Rodney Davis visits Exelon power plant in Clinton
Posted: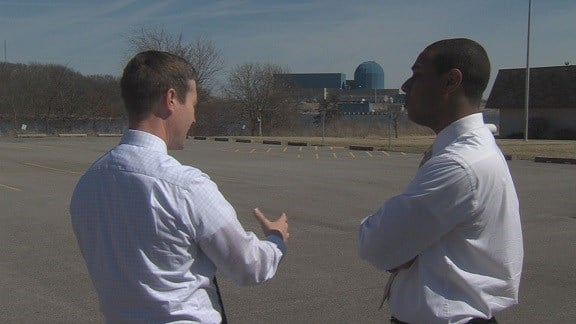 CLINTON - Congressman Rodney Davis joins the push to keep the nuclear power plant open in Clinton. He toured the plant Wednesday afternoon. The Exelon-owned plant is in danger of shutting down because it's not making enough money. It hasn't turned a profit in five years. Shutting it down could devastate the area's economy, an area in Congressman Davis' district. The Exelon plant is Dewitt County's largest employer, with more than 650 employees.

"There are some other sources of energy that are putting more power on to the grid, and it makes it less profitable for a company to be able to run the nuclear facility," said Representative Davis.

He believes different technologies can co-exist. Others, however, disagree. As cheap natural gas and wind power become more a popular source of energy, the need for nuclear-generated energy is going down.

"Renewable energy and wind energy, alone, can't solve our manufacturing issues and provide the power to our businesses and our families," said Davis.

The plant generates electricity to one million homes, and of course the shut down would leave hundreds without jobs. That's why Davis is already thinking of a plan to keep that from happening.

"Part of the debate that we are going to have is on tax credits," he said. "It's going to be on issues regarding regulatory environment, and that's what I'm continuing to fight in Washington. What we should do is make sure that there are policies in place that encourage more American energy independence. I think America should invest in more nuclear-generating capacity, so we can begin to export our excess because of America's energy independence. And when we do that, we provide American jobs."

He plans to invite other politicians to the facility in hopes that they will become motivated to get involved. Exelon isn't making any final decisions until June, at the earliest.