Duchene Says Maturity, Confidence Key to Taking Another Step in Junior Season
Posted: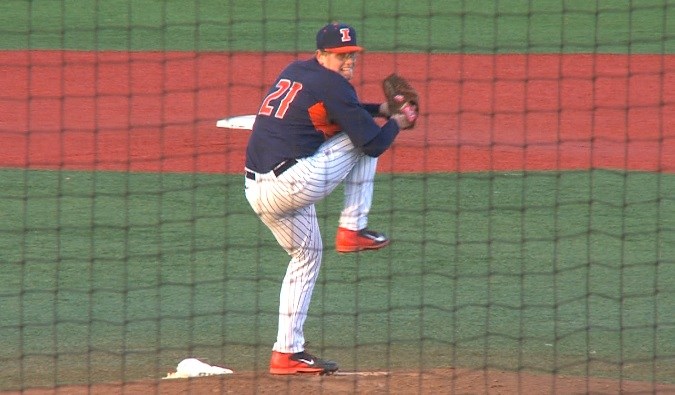 CHAMPAIGN -- He's not the only star on a team with any number of them, but Kevin Duchene is in the midst of adding another brilliant chapter to a stellar college career.
At 26-6-1, the Illini are off to their best start in program history, ranked as high as 12th in the country by
D1Baseball.com
.
That's partly thanks to being able to hand it off once a week to the Big Ten's closest thing to a sure thing.
"It's nice going into a Friday night game with (Duchene)," said head coach Dan Hartleb, in what might be the most obvious statement of the Big Ten season.
Duchene has been more than "nice". He currently leads the Big Ten with a 0.64 ERA, and carries a 4-1 record into a weekend series against Purdue.
"I'm not sure he's any better than he's ever been. He's always been good," added Hartleb.
That's a fair claim -- Duchene was a freshman all-American in 2013, and in his Illinois career, he's 17-3 with a 1.98 ERA.
It's just that he's been nearly unhittable in 2015.
"The experience factor always helps," said Hartleb. "He studies the game. He's been in multiple situations."
"You put in a lot of work in the offseason to hope to have a season like this," said Duchene, who claims maturity as the biggest reason for his improvement. "Playing with a lot more confidence, less timid. And like I said, playing for this team is easy."
It's true that this team has far more than the talents of Duchene, and the accolades can be spread around. Reliever Tyler Jay, who has an equally impressive 0.84 ERA in 32 innings, was named to the Golden Spikes Award midseason watch list.
Rob McDonnell, a senior, has a 4-1 record, with a 1.80 ERA.
This year, the hitting is backing it all up. David Kerian is batting .342, and is tied for the Big Ten lead in HRs with 8.
Illinois ranks 51st in the country with a team batting average of .291.
For the rest of the Big Ten season, however, it will all start with Duchene, who's also getting praise for his defense, particularly for a couple of plays in a 13-inning game against Northwestern.
"He ran a couple bunt defenses picture perfect, it helped us stay in the game and send it to extra innings," said Hartleb. In one circumstance, Duchene hustled to get to a ball and throw out a runner to end an inning -- as the go-ahead run was coming home.
It's another reason why the scouts, who are showing up in droves on Friday nights, would probably prefer he bypass his senior season.
"Do you notice them? Yes. Do you really let that affect how you play? No," said Duchene, who admits he sees the radar guns going up and down behind home plate. "You just go out there and do what you're able to do, and at the end of the day, everything takes care of itself."
Duchene will take the mound Saturday as the Illini begin a home series against Purdue a 3pm CT.