3rd graders hope to turn project into historic landmark
Posted: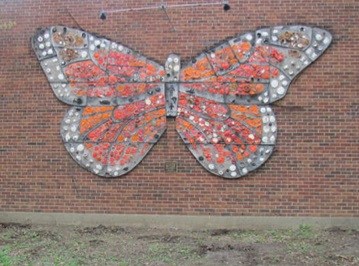 DECATUR - It's been around for 30 years.

"I went to Dennis and remember it, growing up," said Dennis Lab School parent, Nikki Clemens.

The Monarch Butterfly, mounted at the southeast corner of Dennis Lab School, was created by third graders in 1985 using clay. They called it The Monarch Butterfly Monument.

"Every single piece that makes the monarch is a little clay thing, and they're all different pieces that are all put together to make up the monarch," said Clemens.

The monument is no longer on it's original wall. A chalked outline holds its place instead, because the original butterfly is being restored. The current third graders at Dennis have big plans for it. They are attempting to make it a local historic landmark.

"They are so responsible and excited to approach history in this way," said Dennis teacher, Steven Callahan.

It all started in 1975 when the third grade class, then, proposed a bill to the state legislature, asking to make the monarch butterfly the official state insect.

"Once they figured out that the third graders had made the monarch butterfly the state insect, they had a goal to honor them by making our monarch monument, outside of Dennis Lab School, a landmark," said Callahan.

Wednesday afternoon, the students presented the idea to Decatur's Historical and Architectural Sites Commission.

"To be in history is something that's awesome," said student, Ava Clemens.

By the end of the meeting, the commission was happy to forward an affirmative recommendation to the City Council. They have the final say. The students will present to them sometime in May.