Fifth Street Renaissance shuts down mobile HIV clinic
Posted: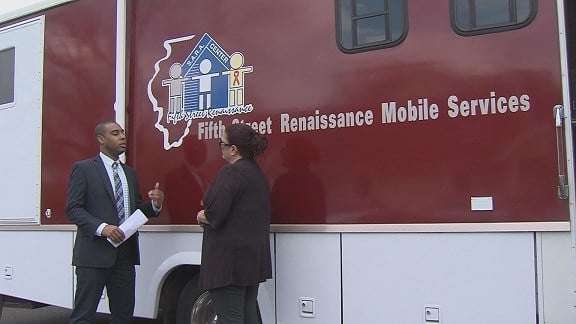 SPRINGFIELD - Budget cuts have made their way to the Fifth Street Renaissance center in Springfield. The program, at large, will still be able to function, but its' mobile outreach services will not; services that many say have been the key to battling STDs in inner city neighborhoods. Unpacking the RV began as a chore, Thursday afternoon, but soon became a trip down memory lane. This Illinois staple won't be driving down any lanes for awhile. It's wheels have come to a halt.

"We expected there to be cuts within the agency," said Penny Harris, executive director of the Fifth Street Renaissance. "I did not expect it to come from HIV."

It's the end of the road for what she calls "The Mobile."

"We've been stopped at our busiest months," she said.

Harris has been running The Mobile for half a decade. It's an RV that travels from city to city, stopping in under-served communities. On the RV, Harris and her staff offer free testing for HIV, Hepatitis C, and other STDs.

"It is a program that is reaching that population that is not going to get up and walk into a health department or a brick facility, for whatever reason," said Harris.

On April 8th, state authorities informed Harris that they would no longer supply the grants that support the program.

"There was a $25,000 Mobile Administration grant, a $50,000 Increasing Access to Healthcare grant, and then $15,000 in amendments," said Harris.

Antoine Jones of Springfield has been using the "The Mobile" for three years, getting tested once every two months.

"This is really going to hurt a lot of people in this community because we really look forward to seeing this mobile drive around and do the things that they do as far as in testing especially with a lot of people going around with HIV," said Jones.

Harris isn't only worried about the people that frequent The Mobile. She's concerned for the people that they may infect if they don't know their status. The staff at Fifth Street Renaissance are not giving up yet. They're petitioning lawmakers to reverse the cut, and they would like help. If you think this is an important program in Central Illinois, they want you to contact your local state legislator and tell them why.