Springfield church advocates for climate justice
Posted: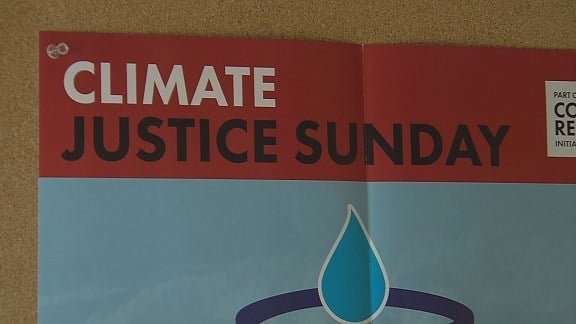 SPRINGFIELD - It was a call to action.

"People of faith and conscience taking action for climate justice in North America and beyond," said Deborah Cavanaugh.

Climate justice was the topic that had members of the Abraham Lincoln Unitarian Universalist Fellowship in Springfield glued to their seats.

"California is not the only state with water problems," said Paul Oakley, a preacher at the church.

Sunday's service was special. They call it Justice Sunday, an annual service when clergy choose an injustice and motivate members to do something about it. Sunday's topic was climate change and how it's limiting access to usable water.

"With the shifting weather patterns, the extremes are more extreme," said Oakley. "So there is water falling from the sky, but it floods more often and floods don't produce the usable water that the normal rains would produce."

He says water shortages and injustice go hand in hand.

"Water injustice that has happened recently in the United States is in Detroit where a lot of poorer residents had their water shut off."

A drought has the entire state of California under water restrictions. California is a major crop-producing state. If the drought continues, farmers won't be able to grow enough crops for other states.

"The government accountability office said, a couple of years ago, that even with normal rain falls, over the next 10 years there would be shortages in about 40 states."

That's why church leader Deborah Cavanaugh-Grant wants people to know how to conserve water, now.

"When you're brushing your teeth, you know, you turn off the water," said Cavanaugh-Grant. "People can use water saving devices, low-flush toilets. Things like that."

Small efforts. Big results.