Decatur woman saves thousands from extreme couponing
Posted: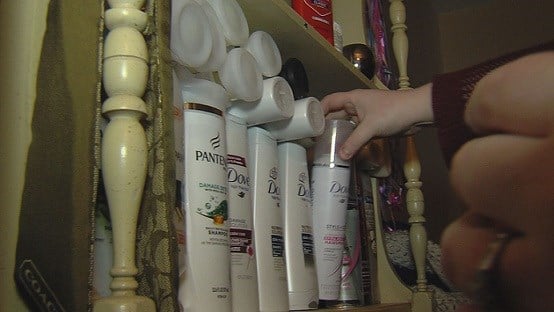 DECATUR - "I got a total of 1,2,3,4,5 of these," said Mary Koski as she sifts through dozens of shampoo bottles in her Decatur home. They ended up being 49 cents a piece."
Mary Koski isn't your average couponer. She's an extreme couponer.
"I don't think I've bought shampoo for three years, and i think i'm still good for, probably, another four or five beyond that."
She racks up on coupons and purchases in bulk... very big bulks.
"Couponing in general is when you use a couple coupons," she said. "Extreme couponing is stock piling."
Couponing kept Mary out of debt after losing her job in 2012.
"It was a very tough time," she said. "It was right before the holidays. I went three weeks without a pay check. I didn't have to buy toilet paper for a year and a half. I still haven't bought toilet paper in almost two years. And if it hadn't been for the couponing, I wouldn't have been able to make it. I'm going to be honest."
Mary has coupon binder that's about 4 inches thick, filled with hundreds of coupons that she collects weekly.
"There's a lot of good sources," she said. "The Sunday paper, Decatur Herald & Review, Chicago Tribune has great coupons, and
Coupons.com
is great website you can use."
For only $15 a week, Mary has her coupons shipped to her home through a service that collects the coupon pages from newspapers and sends them out. Mary's husband, Adam, supports her habit completely.
"I don't have to go anywhere," he said with pride. "I need a bottle of shampoo. I need body wash. I need soap. I don't have to leave the house."
Mary's goal isn't to turn anyone into an extremist. She just wants you to think twice before throwing coupons in the trash. If you're interested in learning more about how you can save with coupons, Mary Koski is ready to take your questions. She offers one-on-one consulting. Just email her at
couponwizmary@gmail.com
.