Cystic Fibrosis Cover Girl
Posted: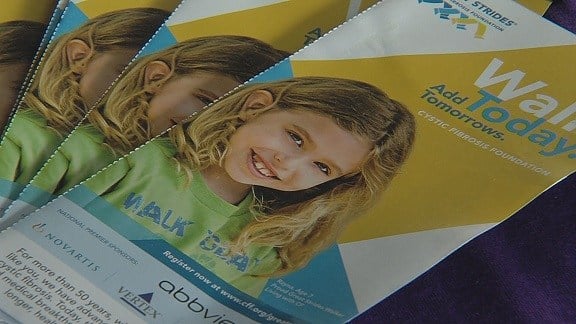 SPRINGFIELD - An 8-year-old from Springfield is getting national attention. Rayna Kruger is currently being featured as the face of the national Great Strides Campaign, a program designed by the Cystic Fibrosis Foundation. Dozens came together to raise money and awareness for the estimated 30,000 people in the U.S. with cystic fibrosis. Only a few of them get national recognition. Rayna Kruger, a second grader at Sandburg Elementary, is one of them. Her face was on display at the annual Great Strides Walk in Springfield's Washington Park. Rayna's family and friends divided themselves into teams to see who could raise the most money. All for a child diagnosed with cystic fibrosis when she was 15 months old. It's a life-threatening genetic disease that affects the lungs and digestive system.

"I lost my little cousin to cystic fibrosis," said Nicci Lowrey. "She was only 12 years old. To see, even since that time, the amount of research that has come through because of the foundation is amazing. That's why i work on staff. That's why I support. That's why all these families are here."

Fundraisers like this have generated dramatic progress in the lives of those who have cystic fibrosis. Fifty years ago, most children with CF didn't live long enough to attend elementary school. Today, people with the disease are living into their 30's and 40's. Today's event raised a total of $15,000 dollars.