Singing with heart and soul
Posted: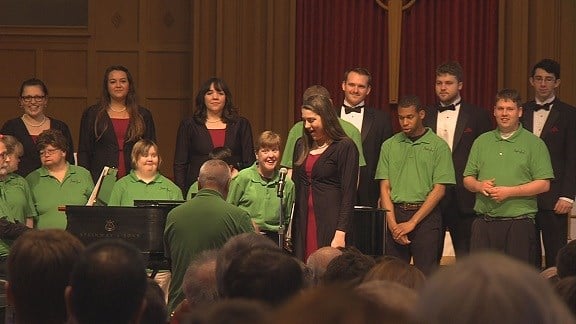 DECATUR - She's shy on camera, but she shines on stage. Sarah Boys is a soloist in Decatur's Heart & Soul Choir.

"I like to sing," she said Sunday, at Central Christian Church.

That's where she sang for a packed house with the Millikin Univeristy Choir. Student Emily Knezz thought it'd be a great way for the choir to end the semester. Both groups began rehearsing separately months ago, but it wasn't until Tuesday that they came together.

"After the rehearsal on Tuesday, I had tons of people coming up to me saying this was life changing," said Knezz.

Knezz says the project proves music is the universal language, with the power to connect people in spite of their differences. Heart & Soul is made up of adults with disabilities.

"People don't expect a lot out of these people, and they over and over again will surprise you," said Knezz.

Sarah says, "It's very hard, sometimes, to figure it out. You have to know the notes. You have to know the tones."

Knezz says you have to be dedicated, hard working, and above all, confident.

"Singing is such a vulnerable thing to do, but once you put yourself out there, you put your heart and soul on the line, it is truly rewarding."

There's one reward Sarah says beats them all.

"Friendship."

This is the first time Heart & Soul has sung with the university choir, but they hope it's not the last.