Disc golf course coming to Forsyth
Posted: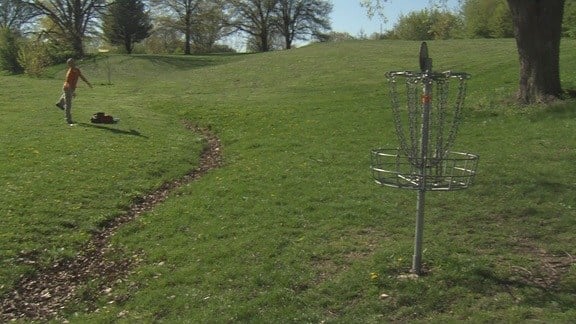 FORSYTH - He chooses a disc. He steps up to the tee. On his mark, he's set.

"Just trying to get this little disc in that basket," said Brandon Mandernach second before launching a Frisbee across Nelson Park.

Thanks to his good arm, and Tuesday afternoon's clear skies, he scored! Mandernach completed the first of 18 holes. He's not playing golf, he's playing disc golf at the only course in Decatur.

"I discovered it about four years ago, when a couple of buddies said there was a new course out here at Nelson," he said.

Disc Golf is similar to traditional golf, but instead of a ball and clubs, players use a flying disc or Frisbee, hoping to complete the course with as few throws as possible. Participants progress toward a series of elevated metal baskets. When the disc lands in the basket, the hole is won. Soon, Brandon will have two courses to play on. Another disc golf course is being developed right next door to Decatur, in the Village of Forsyth. The Forsyth Public Works director Larry Coloni says the course will be in Forysth Park, and stretch along Stevens Creek.

"It's a relatively inexpensive project," said Coloni. "We budgeted about 30 thousand dollars out of the Hotel-Motel Tax."

Last week, the Forsyth Board of Trustees approved the purchase of 18 baskets and decided on a final course layout.

"If it generates a few tournaments a year and we have people staying in our hotels, shopping in our stores, it's going to be worth it," said Coloni.

Members of the board consulted the designers of the Nelson Park course for inspiration.

"I think it's just good to do your research in general, just to see, and maybe be a little bit different course than what we are and make sure we, you know, kind of work together and compliment what we do," said Jamie Gower, the Director of Recreation for Decatur Park District.

The course will be completed and open to everyone by the end of August.