Illini Sweep Ohio State, Extend Winning Streak to 21
Posted: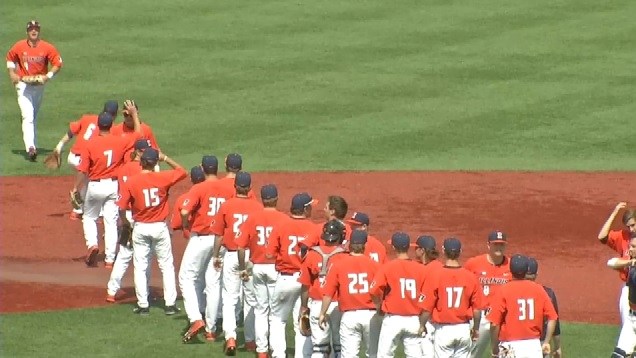 COLUMBUS, Ohio (via fightingillini.com)
-
No. 6 Illinois extended the nation's longest active winning streak to 21 straight and earned its fifth consecutive Big Ten series sweep with a 6-2 comeback win at No. 23 Ohio State on Sunday. The Illini overcame an early 2-0 deficit for the second straight day and scored six unanswered runs to clinch their 40th win.
The Fighting Illini continued their best start in program history (40-6-1) and maintained the No. 1 winning percentage in the NCAA (.862). It is the fastest Illinois has ever reached 40 wins, which is already the seventh-most victories on the school's all-time list.
UI won a program-record 15 straight Big Ten tilts and remained ahead of Iowa (15-3) in first place atop the conference standings at 16-1, marking Illinois' best Big Ten record through 17 games in school history. Five Big Ten series sweeps also broke the school record of four from last season.
Illinois' school-record 21-game winning streak is the longest active streak in the NCAA and second-longest this season behind Texas A&M (24). The NCAA record winning streak (34) is owned by Texas (1977) and Florida Atlantic (1999).
The Buckeyes grabbed their 2-0 advantage with an RBI single in the first and sacrifice fly in the second. Senior
David Kerian
, who went 3-for-4 with three RBI, started the Illini's 19th comeback win with a leadoff homer in the third.
Kerian connected on a go-ahead two-run single in the fourth that plated junior
Jason Goldstein
and senior
Casey Fletcher
for a 3-2 lead. The Illini first baseman hit a team-high .636 (7-for-11) with five runs and three RBI on the weekend.
The Orange and Blue's three-run sixth provided the cushion and wrapped up the scoring at Nick Swisher Field at Bill Davis Stadium. Senior
Will Krug
brought home Fletcher on a squeeze play, while shortstop
Adam Walton
added a two-run single through the left side that drove in Kerian and Krug.
Starter
John Kravetz
, who had his seventh no decision of the season, allowed four hits and two runs in his four innings of work. He fanned a pair of Buckeyes, which moved him into 10th on the school's all-time list with 179 career strikeouts.
Redshirt-senior
Rob McDonnell
took over in the fifth and did not allow a run while fanning four over four frames. He improved to a career-best 7-1 after picking up his second win on the week. Third baseman
Ryne Roper
turned a key double play in the seventh that halted the OSU threat.
Closer
Tyler Jay
finished off the game for the second day in a row, breezing through a perfect ninth on eight pitches.
Up Next:
No. 6 Illinois will play its final six games of the regular season at Illinois Field, beginning with a series against Rutgers next weekend (May 8-10). The Illini end the Big Ten campaign with a home series against Nebraska (May 14-16).