Hundreds come out for Lincoln funeral reenactment
Posted: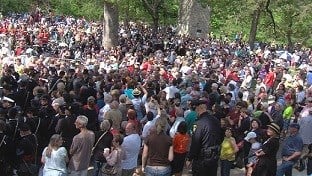 SPRINGFIELD - They were committed to their characters, staunch and unwavering.
"You really try to get into that mindset, and try to feel or know what it was like, and you want to bring that back to life," said Jason Wade, a Lincoln-era reenactor.
Reenactors came from across the country and even overseas.
"There are reenactors here from Maine to California, from Washington State to Florida, the United Kingdom, Croatia, Canada," said Dawn Henry, another reenactor.
They came to commemorate the life of President Abraham Lincoln on the 150th anniversary of his death. The weekend of festivities began Friday. Sunday afternoon was the re-enactment of his funeral.
"I'll admit, you know, when we first heard about the event, my first thought was that's a little morbid," said Wade. "But the more we thought about it, there's never going to be a chance again, you know, to be able to pay that kind of respect."
There were over a thousand people present.
"These are people that love Mr. Lincoln," said Henry. "They love him and what he stood for."
The ceremony included a chorus and soldiers as spectators watched from every angle they could.
"It brought forth that deep emotion as if it were really happening," said Wade. It's pretty amazing."
The funeral included a procession from the Old State Capital Building to Oak Ridge Cemetery, were the ceremony took place.