Blickensderfer Announces Retirement from Coaching
Posted: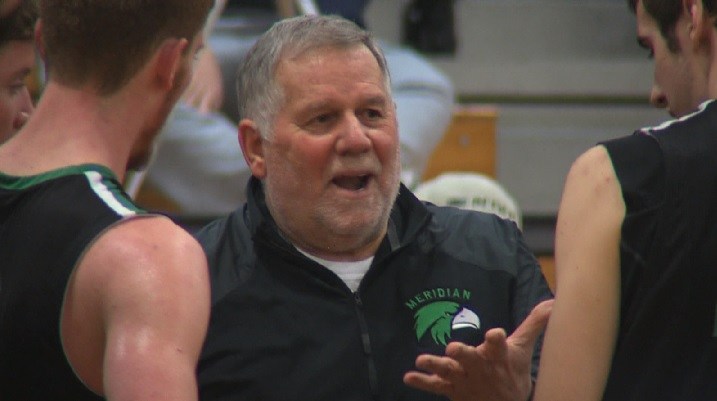 MACON -- Longtime high school basketball coach Jack Blickensderfer announced his retirement from coaching, ending a local career that dates back to 1971.

Blickensderfer, most recently at Meridian High School, told his Hawks boys basketball team Tuesday. It was a decision, he said, that had been on the mind for awhile.

"I kind of gave the impression to some people that this might be my last year going into the season," he said.

That, like the season itself, changed over the course of the past six months. Blickensderfer said Tuesday, there were a number of times he went back and forth on the idea.

"You have ups and down throughout the season, and there was a time we played so poorly that I thought, this is going to be my last," he said.

While he ultimately hung up the clipboard, he did so for different reasons. Meridian, despite a slow start, finished the 2014-2015 season at 18-10, clinching a winning record in each of his 12 seasons with the Hawks. Blickensderfer said it was important to him to leave behind a program that didn't need to be rebuilt.

"With four starters back, and a team that won 18 ballgames that was really a young team, I think it's an opportunity for a coach to step in and have a really good ballclub. I'm really proud of that."

The IHSA archives have Blickensderfer with an overall record of 454-139 (a .766 win percentage) in 21 years of coaching, which includes the 2009 1A state championship with Meridian.

His career began with the first of two stints at his hometown school, Cerro Gordo High School in 1971, took him to Sparta HS for a year, and Mt. Zion for two in the late 70s and early 80s.

Following his time at Mt. Zion, Blickensderfer took a long hiatus from coaching to go into real estate, and said Tuesday he liked it so much, he's going back to being a realtor.

"It's a full-time job, but you have some flexibility in it also," he said. "You can sell new houses, you can work the commercial part of it, you can be in the construction phase of it, so I enjoy that part of it all."

That flexibility will give him more time to spend with his grandchildren, work on basketball with kids at the YMCA, and -- he admits -- do a little armchair coaching.

"I coach every night with the college coaches on TV anyway," he joked. "I'll still get my share of coaching in."