Rauner addresses hunger in Illinois
Posted: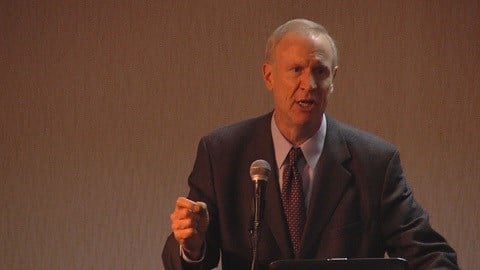 ILLINOIS - The freezer was close to empty.
Across from it, a shelf with barely anything to hold. Becky Troyer says these are the results of Hunger in Illinois.
"There's times when people will come two hours before we open to wait in line and we'll have it starting to go around the building," she said Tuesday.
She runs the food pantry at Heartland Community Church in Decatur.
"We used to be open every Tuesday, and just weren't able to afford, with our budget, to keep the food stocked on the shelves," she said. "So we had to cut our hours and the amount of times per month we were open."
This is one of the realities that many hunger-relief programs are facing in Illinois. That's why dozens of people brainstormed ideas Tuesday evening at the Illinois Commission to End Hunger Summit.
"My goal is to make sure that we give back our resources to the communities and the families in need here in Illinois," said Governor Bruce Rauner, speaking to the audience at the summit.
The commission is a group of private and public sector organizations coming up with solutions to end hunger in Illinois. Rauner was there, excited about the mission.
"Let's make sure we're focused on ending hunger itself, rather than only feeding folks," he said. "We need to change the system."
Most of the audience members were representatives from hunger relief programs with several ideas for systematic change.
"Streamlining more and more of the programs," said Kristy Gilmore of Central Illinois Foodbank. "For instance, allowing for families that sign up for snap benefits to automatically be signed up for free and reduced lunch programs."
Rauner ended his address with a promise.
"We're going to work to find solutions to end hunger in Illinois."