High Highs, Low Lows Prep Illinois Softball for Big Ten Tourney Run
Posted: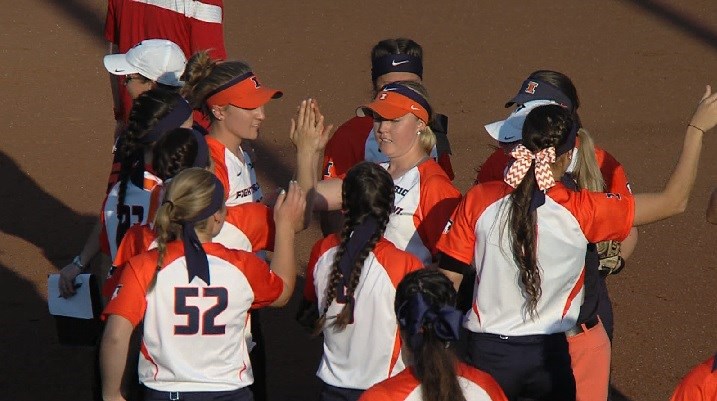 CHAMPAIGN -- The Illinois women's softball team is preparing for the Big Ten tournament as the 5-seed.

That sounds about right, considering the peaks and the valleys of a turbulent 2015 regular season were equally dramatic.

After it all, the Illini are 26-26 (14-9 B1G) -- an even .500 -- headed into an opening round matchup against 12-seed Purdue

However, if you split the season in two, the women were far from average -- on both sides of the spectrum.

"You can tell we've been through it all," said junior Allie Bauch. "Kind of a roller coaster."

Let's begin with the bad: Illinois started the season losing 7-of-8. After regaining some of their footing, they fell into an even deeper slump in mid-March, dropping nine straight.

The season hit its low point following a 17-5 loss to Missouri (then ranked 20th in the country) on March 25, falling to 8-20 overall.

The team was outscored 200-123 in those first 28 games -- an average of 7.1-4.4.

They can look back on it as a learning experience now, but to hear them reflect, it really felt like worst-case scenario for a team in danger of losing their season too early.

"We didn't expect to come out real flat. We weren't hitting the ball real good. In the circle we were allowing too many walks, too many hit batters," said head coach Terri Sullivan.

The players felt the deficiencies, too, and felt them everywhere.

"We didn't have the pitching there when we needed it, we didn't have the defense to back it up, and our offense didn't really explode until we hit Big Ten," said Bauch.

It was actually in Illinois' second Big Ten series -- a homestand against Indiana -- that things changed for the better. Illinois swept the Hoosiers (outscoring them 40-26 in the 3-game series), and sparked a stretch in which the Illini won 11 of the next 12.

"That's when we started doing well. When he had confidence in the great offense that we have," said Bauch, who was named an all-conference 1st team selection on Wednesday.

Soon, contributions were coming from everywhere.

Bauch led the charge, finishing the season hitting .403 with 12 HRs, 38 RBIs, and 18 doubles. Alyssa Gunther joined her on the 1st team, with a slash line of .376/1/18

Freshman Carly Thomas made the all-Big Ten 2nd team, hitting .372 with 8 HRs and 42 RBIs.

The team won 13 of their next 17 Big Ten games, finished the year ranked 5th in the conference in offense, and upped their scoring average from 4.4 runs/game in their first 28, the 8.4 runs/game in the final 24 of the year.

"Winning those six series was quite a challenge for us in the Big Ten, because we did have our backs against the wall," said Sullivan, who said confidence was the biggest key to the change.

Illinois is now poses real threat in the Big Ten tournament. They open with a game against 12-seed Purdue at noon ET Thursday. They took 2 of 3 from the Boilermakers in late April.

In fact, Illinois is 6-2 against teams in their half of the Big Ten bracket.

"You play the season to be in tournaments, and to be in championship caliber play. We think we're capable of going on a run like that," said Sullivan. "I don't think anybody wants to face us on a given day."