Rep. Rodney Davis reintroduces bill to help the unemployed
Posted: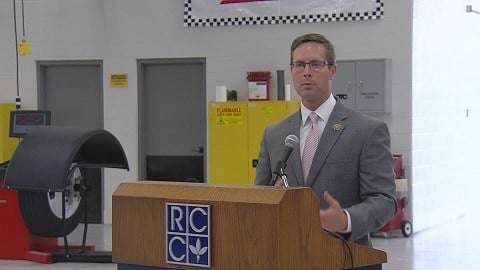 DECATUR - The Bureau of Labor Statistics reports that 8.6 million Americans are unemployed. Those without a high school diploma experience unemployment rates nearly 3 times that of college graduates. What has one politician scratching his head, however, is that there were 5.1 million job openings at the end of February this year. Congressman Rodney Davis is determined to get all 5.1 million of those openings filled. That's why he has proposed a bill that he thinks can help further that goal.

"We have an antiquated workforce investment system, in many ways, that will punish those who may be seeking to achieve their own American dream or seeking a way just to find a job," said Davis as he announced, Wednesday, at Richland Community College, the reintroduction of the Opportunity KNOCKS Act.

KNOCKS stands for Kindling New Options for Career and Knowledge Seeking. Unemployed workers who seek job training through programs at universities, community colleges, and technical schools risk losing unemployment benefits if the program is not approved by the workforce investment act. The Opportunity KNOCKS Act would eliminate that risk.

"There were two men who just a few years ago who were laid off their job, wanted to get trained to get good paying jobs in the bio fuels industry," said Davis. "We know a lot about bio fuels here in Decatur, Illinois. So they went to the corn ethanol research center at Southern Illinois University at Edwardsville. They got the training they needed. They got the jobs, and they got a letter from the Department of Employment Security saying you need to pay back you unemployment benefits. That didn't make sense to me."

Supporting his effort is Dr. Douglas Brauer, Vice President of Economic Development Innovative Workforce Solutions at Richland.

"Penalizing individuals that are motivated to gain education and gain more skills just doesn't help the local and regional economies," said Brauer.

The bill was first introduced in 2013, but did not pass. This time around, Congressman Davis is asking you to help him keep that from happening, again, by contacting lawmakers.