Purdue's Late HR Sinks Illinois Softball in Big Ten Tournament
Posted: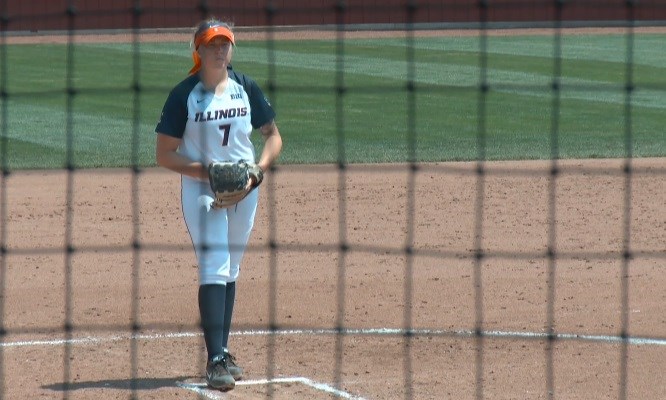 COLUMBUS, Ohio (Illinois Athletics) - The fiery Illini offense was held at bay on Thursday afternoon, as #12-seed Purdue put up a strong defensive front to upset the #5-seed Illini, 3-2, in the opening game of the 2015 Big Ten Tournament. After the Boilermakers put up an unearned run in the first, Nicole Evans jumped Illinois ahead with a two-run blast, but a two-run shot by Paris Andrew punched Purdue's ticket to the Big Ten Quarterfinals. With the loss, Illinois finishes the season at 26-27 (14-9 Big Ten), while the Boilermakers improve to 31-24 (7-14 Big Ten).

"Jade put us in a good position to get things done today," said head coach Terri Sullivan. "I am so proud of her growth this year in the circle. Fecho is an outstanding competitor and shut the door when we had some opportunities to score. Our team was very focused on being at our best at this tournament, and they know you should have to bring that caliber of play into the postseason."

Second Team All-Big Ten pitcher Lilly Fecho limited the Illini to four hits, but Nicole Evans gave her trouble, going 2-for-2 with a single, a two-run homer and a hit by pitch. The sophomore finishes the year ranked second all time at Illinois with 19 home runs on the year, leading the team with a .740 slugging percentage and 52 RBIs. Alyssa Gunther and Ruby Rivera had the Illini's remaining two hits, and Gunther scored on Evans' homer. Allie Bauch drew the Illini's lone walk to kick off the bottom of the first.

Jade Vecvanags had a solid day in the circle, allowing two earned runs off seven hits and two walks with five strikeouts, but took the loss to finish the season 19-12.
"Coach Manley told me, 'Go out there, you don't have to be perfect, just hit really good spots and let your defense work for you,' so that was what I was focusing on," said Vecvanags. "I think the biggest key is just throwing a good pitch and making it move and putting it in a good spot. I know I don't have to go out there and try to blow it by people, and I'm not going to strike a million people out, so I just try to put a ball in a corner and let my defense work for me."

Lilly Fecho (20-16) also struck out five and surrendered two earned runs, allowing four hits and a walk over the full seven innings.

Ashley Burkhardt led the Purdue lineup by going 3-for-4 with a double, and Paris Andrew hit the game-winning home run in the fifth.

A collision between Rivera and Carly Thomas in shallow left center allowed the leadoff batter to start the game on second base. A single and an RBI ground out got Purdue on the board. However, after some control issues loaded the bases, Vecvanags got a huge called strike three to strand three and escape the inning with just the single unearned run.

The Boilermakers did not lead for long, as Bauch worked a full count walk to lead off the bottom of the first, and Evans sent an offspeed pitch over the left field wall for her 19th home run of the year, making it 2-1 Illini.

"They came out and scored in that first inning, and when I went up to the plate, I just thought hit it up the middle, we need to move some runners and get some runners in," said Evans. "Hitting it out of the park is definitely nice, but we just needed to get something started.

"I wasn't looking for the change up, but I really like hitting change ups, I've worked on it a lot, so seeing that it was coming in, I kind of went after it and then held back a little bit and let my hands go."

After three quiet innings, a first-pitch drive gave the Boilermakers back the lead, as Paris Andrew drilled a two-run shot to straightaway center in the top of the fifth to make it 3-2 Purdue.

Gunther led off the bottom of the sixth with a single to right center, and two batters later Evans did the same to put runners on the corners with one out. Pinch runner Danielle Trezzo stole second to put a pair in scoring position, but Fecho struck out the next two Illini to preserve the Purdue lead, 3-2.

Purdue wasted a leadoff double in the top of the seventh, as a pair of ground outs and a Vecvanags K kept the Boilermakers from adding any insurance. But PU would not need it, as Fecho retired the Illini in order in the bottom of the seventh to seal up the one-run upset, 3-2.

"(What stands out to me the most about this group is) the character of this team," Sullivan closed. "Any coach wants all their players to have the intangibles, being dedicated and having great enthusiasm and staying in it for the long haul. Softball is a long season, and this team stayed together when they weren't at their best.

"Offensively what we did this year is because everyone believed in each other. No one ever went up to the plate thinking they had to do it all, although we had a lot of players that could; everybody had each other's backs, and that's the sign of a great team.

"But I know they have a bad taste in their mouths. We wanted to make a run here; we felt we could. Now, we have to out-work everybody from this point on and stay hungry."