Illinois AD Thomas Responds to Twitter Rant of Former Football Player
Posted: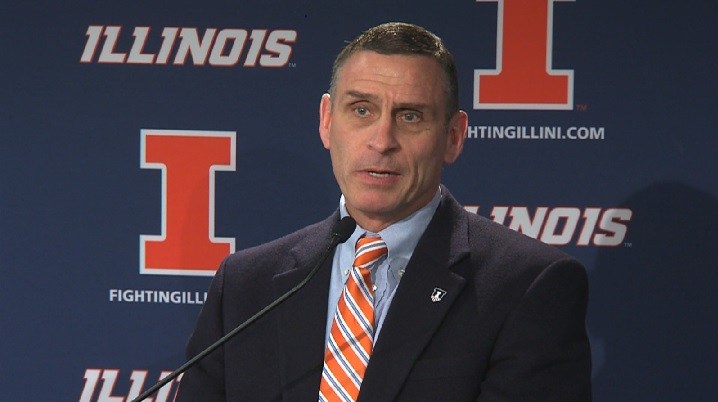 CHAMPAIGN -- Illinois Athletic Director Mike Thomas responded to some harsh criticisms from a former football player on Monday.
Thomas was among the many subjects addressed, and mostly criticized, in a long series of tweets from former offensive lineman Simon Cvijanovic.
Cvijanovic started 33 games for Illinois during a four year career, but since Sunday afternoon, has sent out more the 150 tweets disparaging the Illinois football program, the athletic department, and specifically calling for the firing of head football coach Tim Beckman.
"I'm not the only horror story of abuse and misuse of power by (Coach Beckman)," Cvijanovic claimed (
read more of his rant here
)
In a 24-minute teleconference Monday, Thomas defended the university's treatment of student athletes, including that of Cvijanovic.
"(Coach Beckman) put the welfare of this young man above everything else," said Thomas. "The feedback I get from the players and these players' families is that these coaches genuinely care for them and treat them like their own children."
Thomas said that's backed up by players, who he said all get exit interviews upon leave the program, though Cvijanovic claims he didn't get to participate in one.
"The feedback we're getting from our student exit interviews don't correspond with what we're hearing from Simon," said Thomas.
Cvijanovic claims, among other things, that he was made to play through an injury, treated by an unlicensed trainer, and witness to physical abuse by Beckman.
Thomas spent time responding to each claim.
On the alleged abuse, in which Cvijanovic claimed teammate Kenny Knight was "attacked" at a practice: "To the best of our understanding (Beckman) was breaking up a fight between two players."
On Cvijanovic's claim that Beckman told him he couldn't attend a year-end banquet : "There were a number of kids on the team, especially seniors, that felt it was inappropriate that Simon attend the team banquet. Simon quit the team, he withdrew from school... and like I said, coach Beckman made a decision that it was in the best interests of the program to not have him at the banquet."
On the use of an unlicensed trainer: "The person in question no longer works here. We can't talk about specific personnel issues, but in general, a licensed athletic trainer from another state needs to apply for a license at the time of the hiring, and work up to six months in the state of Illinois before getting licensed, or they need to stop working. It's on the trainer to submit an application in that time period, or they're subject to termination, even if they are accredited nationally."
In the hours following the rant, current and former players spoke up both in support, and disagreement.
"Simon quit on his brothers when we needed him most," said fellow lineman Ted Karras via his Twitter account. "These coaches let him stay on scholarship to finish his degree. #truth"
"My man (Cvijanovic) is giving the real truth about (Coach Beckman) right now," said Peter Bonahoom, who left the program in 2014. "Wish I could write a book about my time there."
Thomas was clear that he had not seen evidence of Cvijanovic's allegations of abuse and mistreatment, but said there would be an investigation into the matter.
"I know that we'll go through that process, we will follow up," said Thomas. "As it relates to who that will be and a timeline, that's still to be determined. We're working with the chancellor's office on the matter."
"I think any time there's allegations made as it relates to the safety and well being of our students athletes, I think is something that we need to pay attention to, absolutely."
While Thomas said an investigation report would not be made public, he said if there are any changes as a result, "I think those would be pretty obvious, and would be very apparent."