Illinois Offense Thriving Under Hitting Coach Spencer Allen
Posted: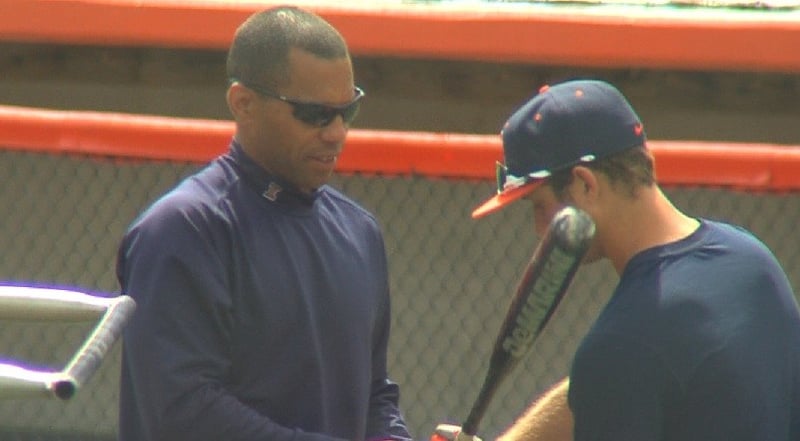 By Matt Loveless

CHAMPAIGN -- Upon arriving at Illinois, hitting coach Spencer Allen made some assurances, even though scoring 28 runs in a game wasn't one of them.
"He promised me we wouldn't lose, so he screwed that up early in the year. We lost a couple games," joked Illinois head coach Dan Hartleb, whose Illini can laugh at those losses -- all six of them.
Illinois' 28-13 win over Rutgers Sunday -- in baseball, remember -- was the team's 24th straight victory, a school record that added to a program-best 43-6-1 start to the year. Their magic number to win the Big Ten regular season title is down to two - meaning a series win against Nebraska this weekend would clinch it.
The 28 runs, while remarkable, were more of a confirmation of what this team has been building all season -- a balanced attack in all phases.
The pitching has been predictably reliable, with the team sporting a 2.48 ERA. Junior Kevin Duchene (9-1, 0.95 ERA) and junior Tyler Jay (5-1, 0.70 ERA) lead a staff that ranks as the best in the Big Ten, and 5th in the country. It may be unfair, but not many expected much different.
The concern in the preseason was with the offense, who came off a season in which they batted .273 (about league average), and were seen as the biggest crutch for a team that was on the wrong side of the bubble for an NCAA berth in 2014.
That's where Allen came in.
"It was on me just to try not to rock the boat as much," said Allen, who took over for longtime assistant Eric Snider. Snider had been on staff at Illinois for 16 years, but took the hitting coach/recruiting coordinator job at Louisville in 2014.
Snider didn't leave behind a bare cupboard. Eight of Illinois' nine current regular starters had 160 or more plate appearances in 2014.
Allen, who spent the last two years at Creighton University, said his job was to hone some of their skills -- or at least not screw them up.
"If there's a tweak here and there, we're going to try to fix it, but they deserve 100% of the credit," he said.
"He's asked a lot of questions," said Hartleb. "It's not just about the physical talent, it's how guys react to certain situations. He did his homework, and paid a lot of attention in his early practices and early games, asked a lot of questions to the staff as far as what guys have done in the past. So, a lot of it is that he's done his homework, and figured out which buttons to push."
He found the right ones with senior David Kerian. The first baseman admits he wasn't living up to his own expectations in his first three years at Illinois.
"In high school I hit for power, but kind of lost it my first three years here," said Kerian, "but definitely went back to my pace, my swing. Swinging with power, trying to hit line drives."
"I think the biggest thing with him was that he got pitches to hit, he wasn't getting himself out, and confidence goes a long way," said Allen. "I'm not, by any means, taking credit for David Kerian, but he got confidence going in the Dominican trip, and he just kept that rolling right through the early part of the year to now."
Regardless of who deserves the credit, Kerian turned a corner. He's first in the Big Ten in both batting average (.374) and HRs (12), and a likely favorite for Big Ten player of the year.
The improvements show up across the board. Pat McInerney went from a role player to a productive middle-of-the-order bat, going from .203 with one HR in 2014 to .322 with four HRs this season.
Junior Ryan Nagle, senior Casey Fletcher, and senior Reid Roper are each hitting 30 points or better than their 2014 totals.
"You could never predict this, but it's just been a lot of fun," said Allen, who insists his biggest contribution is living by the motto "if it ain't broke, don't fix it."
Whatever he's doing -- or not doing -- has also proven to work in the past. When he took over as hitting coach at Creighton in 2013, the team average jumped from .251 to .283.
It seems hardly coincidence then that the Illini improved from .273 in 2014 to their current .300 in Allen's first season in Champaign. The team has also improved their power numbers -- jumping from 21 HRs to 45 and counting.
"I could coach the rest of my career and never go through this experience," said Allen, whose promise to never lose hasn't been so outlandish the last month and a half. "It's just been a lot of fun."
The Illini close the regular season with a series against Nebraska beginning on Thursday. First pitch for game one is schedule for 6pm CT at Illinois Field.