Best friends turn 108 and 103 together
Posted: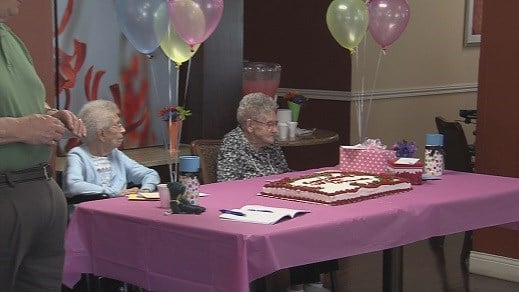 DECATUR - They use to live on the same block, they, now, live in the same nursing home, and they may just be the oldest pair of friends in the city of Decatur. Julia Downy turned 108 years old on Tuesday, and Servata Munson turns 103 years old on Wednesday. Dozens gathered at Symphony Nursing Home to celebrate; four generations in one room.

"It's really special to still have her here, " said Julia's daughter, Karolyn.

She spent most of the her time at the party reminiscing with Servata's daughter Sharon. The birthday girls raised their kids on the same block.

"We all walked to school together," said Karolyn. "We all played together on weekends."

Many of the party guests were in search of the secret to long life.

"She's always said the reason she's able to live this long is because she never smoked, she never never drank, she never cussed, and she's a Christian, and she thinks those are the four reasons why she's still here," said Karolyn about your mother.

Servata's family says they believe she's been granted a long life because she's sown so many seeds.

"She always planted flowers and vegetable gardens in the backyard," said family friend Judy Engdale.

Everyone at the party agreed that it's their overall positive energy that's been keeping these two alive.