Illinois Men's Golf Riding Wave of Momentum into 8th Straight Regional Appearance
Posted: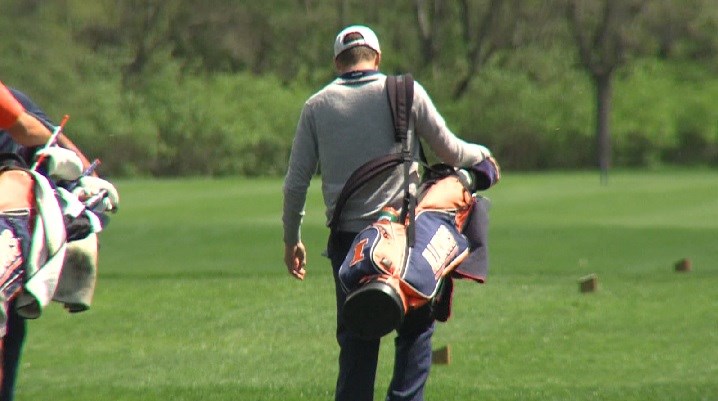 By Matt Loveless

NOBLESVILLE, Ind. -- The Fighting Illini men's golf team is headed to Indiana in search of a third straight regional title.

The Illini start tournament play Thursday at the Sagamore Club, bringing to competition the reigning Big Ten Coach of the Year (Mike Small), Player of the Year (Thomas Detry), and Freshman of the Year (Nick Hardy). It's the second time in three years that they've swept the conference awards.

Along with loads of talent (all five of Illinois' competitors made All-Big Ten teams), the Illini enter their 8th consecutive regional competition with loads of confidence.

"Our goal has to be to go win the thing, not just qualify (for nationals)," said head coach Mike Small, whose Coach of the Year awards was the 7th of his career. "If we do that, I said we'd be competitive."

The Illini have had varying levels of success the last three seasons. In 2013, they surged into the national matchup play championship, eventually falling to Alabama.

They followed that runner-up finish making it into the eight-team match play championship yet again in 2014.

Detry was on both of those teams, and said there's a different attitude this time around.

"This year, we just know," said Detry, who admitted that in 2013, the team felt just "happy to be there."

"We've been number one in the country for the first time. We feel that there's something special that can be done this year, for sure."

Illinois is heading to Noblesville with loads of momentum, after winning consecutive tournaments by 32 strokes apiece. That included the Big Ten tournament, in which Hardy earned co-medalist honors shooting 4-under at the four-round event.

"We always turn our games on April/May when it starts to really matter," said Hardy, speaking for the years before his highly-successful arrival, "so that's really what it's been about."

First round play at the Noblesville regional begins at 7am Thursday.