Marianne Manko Reports: Komen Survivors
Posted: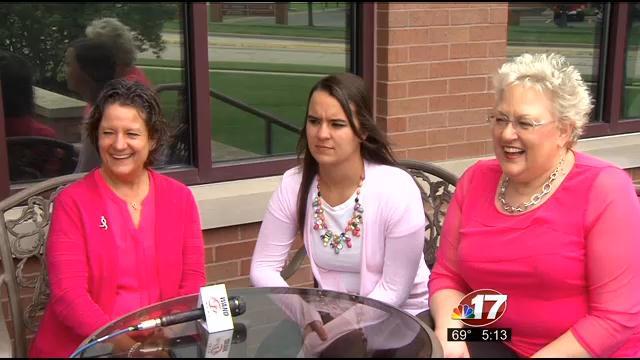 SPRINGFIELD - Julie Henderson and her daughter, Nicole, are co-chairs for The Susan G Komen "Race for the Cure" this Friday night, May 15th in downtown Springfield. Julie, her mother and her grandmother all survived breast cancer. Julie agrees with many women who've battled this deadly disease that the worst part is when you must shave your head, mainly because your hair is falling out in giant chunks and it looks terrible and makes a big mess. "My sisters were there for the weekend and my husband was kind of struggling. I don't think he wanted to be the one to do it," she tells WAND News. "So my sister is like 'oh I'll do it. C'mon! Let's go do it!'."
Jane Locascio had no family history, so her diagnosis was a shock. She found a lump just a few months after having her annual mammogram. She was sure it was just some sort of harmless cyst. Fortunately for Jane, she has an equally positive attitude. But, unlike everyone in her support group, Jane actually loved being bald! "I thought it was the most freeing experience of my life," she said, laughing and cracking up everyone in the room. "Not having to do anything with my hair every morning? I loved it!"
They can laugh now. But both women survived grueling treatments which clearly not only affected themselves, but their family members, friends and co-workers.
Nicole Henderson, now 22, remembers vividly coming home to find her father in the house at a time he should have been at work. Her mother had just been diagnosed. "He told me," she said. "And as a 13-year-old you get to hear that news and what does that mean?"
Yet all three of these woman say cancer changed them for the better.
"I didn't want every day to be about me having cancer," Julie said. She simply wanted to go to work every day and not have to talk about the cancer. She knew if people saw her bald they would figure it out. "I wore my wig every day at work or when I went out, just not at home," Julie explained. And she did everything she could to make herself look healthy. "At one time I had only one eyelash left. And I put mascara on it," she said as those around her laughed.
Jane also went to work every day that she could. But Jane, who had worked as an accountant doing internal audits for 20 years, actually hated her job. "I was a bean counter in a dark office with my nose down all day," she told us. "And that's not me. My mother was the first female licenses real estate broker in Springfield, and she loved what she did." Wanting to follow in her mother's footsteps, Jane made herself a promise: "If I get through this alive I'm going to do what I've always wanted to do. I'm going to become a realtor." Jane underwent 12 months of chemo (14 days on, 14 days off) followed by 38 radiation treatments. During this time she began studying for her broker's license. "I scheduled my broker's exam the same day I had my very last treatment" she said.
She passed.
Today Jane Locascio is one of the most successful real estate agents in the Capital City area. She loves her job. She is very involved in community work. Her daughter, who was ten at the time, is doing well in college. And she's living her life in a way that makes her happy every day.
Julie Henderson is also doing what makes her happy. She promised herself if she survived she would be more active in her community and "give back." This is the second year she is co-chairing the Springfield Komen race with Nicole. But both she and Nicole have been involved, raising money and raising awareness, long before that.
Nicole realizes she could very likely be the 4th generation woman in her family diagnosed with breast cancer. Although, at age 22, she is not covered by insurance to get regular mammograms, she still performs breast self examinations and takes other measures to screen herself. Her work through the Susan G. Komen foundation has taught her a lot. "We want to raise awareness for all those individuals and educate, you know, everyone...including those younger women and males that they can also get breast cancer."
Yes. Men get breast cancer too.
"I went through treatment with three different men right here in Springfield who had breast cancer," Jane says. "You will meet male breast cancer survivors at the Komen Race for the Cure. The survivors wear a separate t-shirt that identifies them as a survivor."
Nicole agrees that the Komen race is unlike any other race you will attend. "First, you don't really have to 'race' if you don't want to. You can walk all of it or part of it. Or you can just show up for the festivities."
Those festivities begin this Friday at 5pm. There is a survivors walk that starts on the stairs of the state capitol building, which makes Nicole get a little choked up. "It's just a really moving experience to see all of the survivors and their families and friends come together and honor and celebrate each other. It's just great."
The "race" itself begins at 7pm, and you will get a GPS tag to measure your time if you are a serious runner. The race begins and ends right in front of the state capitol building, followed by a rare pink fireworks display and a street party downtown. The 2nd Annual Springfield "Race for the Cure" is unique in that it's the only night time Komen race in the nation. You can register right up to the day of the race.
Here's the link:
http://memorial.info-komen.org/site/TR/RacefortheCure/PIA_MemorialAffiliate?pg=entry&fr_id=5115
WAND is the TV sponsor for this year's race. Jane, Julie and Nicole hope you will join them as they "race for a cure".