Springfield PrideFest 2015
Posted: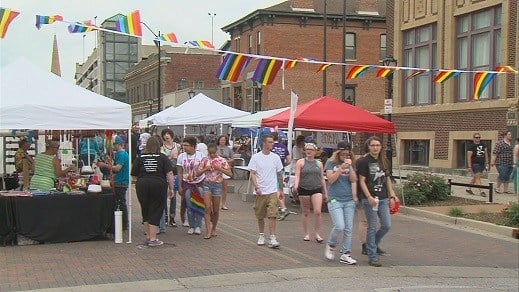 SPRINGFIELD - Pride flags lined the streets. A sense of boldness filled the air.

"I'm proud that I'm out, and I'm proud that I can say that I am a lesbian and that I'm completely comfortable with my sexuality," said Abigail Pamanter. She and hundreds of other lesbian, gay, bisexual, and transgender people spent Saturday at the 5th Annual Springfield PrideFest. This year's fest was proof that Springfield's LGBT community is growing, and it's growing fast.

"I don't think 10 years ago, we would've even been having this event," said festival-goer, Sam Perks. "This event is 5 years old and it's exponentially grown every single year."

The festival celebrates how much has been accomplished within the local gay rights movement, but most of the festival-goers agreed there's still along way to go, such as securing anti-discrimination laws for transgender people. Some members of Springfield's transgender community are still experiencing explicit hate.

"i do get dirty looks. I've been talked about, about using the women's bathroom and it's just what we have to deal with," said trans woman, Angel Schleiper.

Organizers of the festival say it's about empowerment, and it acts as a reminder that no one in the LGBT community should feel alone.

"Don't ever be afraid to come out and be who you are. There will always be people who don't accept you, but the majority of people who are around you and in your life will stand with you and support you no matter what," said Pamanter.

The Phoenix Center, an LGBT community center here in Springfield, spent months organizing the festival.